The Twerk That Broke The Camel's Back: Robin Thicke's Improv With Miley Cyrus At VMAs A Key Factor In Separation From Paula Patton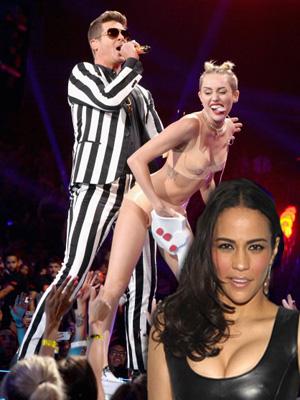 Robin Thicke's gyration on the receiving end of Miley Cyrus' now-famous twerk at the VMAs made for pop culture's defining moment of 2013, but it was also the catalyst of discontent with his wife Paula Patton that paved the way to their separation this week.
According to online reports, Patton didn't know he sexual gesture was part of the act, and was left feeling "utterly disrespected" when her 36-year-old husband was all too willing to oblige the then-20-year-old starlet in the sexual simulation in front of a worldwide audience.
Article continues below advertisement
Patton got into a screaming match with Thicke after the Aug. 25 duet, which was replayed countless times in the media as Cyrus' newfound bad girl reputation became the focal point of the pop culture press.
Patton laughed off the incident — which also drove a wedge between Miley and her then-fiancé Liam Hemsworth — in subsequent interviews, after much cajoling from her husband.
"He asked her to help him out as a friend and a wife, and defend him and the performance, he begged her to speak out for him and be there for him," a source told US of the aftermath. "She agreed to be the good wife after he begged and pleaded."
Article continues below advertisement
Speaking with Star following the award show, the "Give It 2 U" singer downplayed issued of marital strife, saying he and Patton shared "the most functional, dysfunctional marriage in Hollywood," and that they were "perfectly in love and very happily married."
The R&B singer, whose career soared into the stratosphere with last summer's party anthem "Blurred Lines," is doing everything in his power to try and rebuild the relationship with Patton, who he has a 3-year-old son named Julian with.