Robin Thicke Doesn't Blur Any Lines With Vegas Back-Up Dancers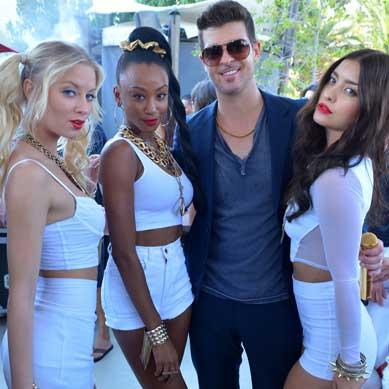 Robin Thicke kept it clean when he performed in Sin City Friday.
The R&B heartthrob was performing at Palms Casino Resort, headlining its Ditch Fridays afternoon party.
PHOTOS: Robin Thicke Performs At Palms Casino Resort
Looking dapper in a navy blue suit and his trademark aviator sunglasses,Thicke talked about the Vegas scene before hitting the stage.
"My favorite thing about Las Vegas is the unpredictability and the shushness of it all," he joked.
Article continues below advertisement
After three numbers, the singer cut straight to the chase and gave the crowd what they wanted to hear: Blurred Lines.
His back-up dancers were fully dressed, unlike the topless beauties in the music video version of the hit. This time they wore white high-waisted skirts, crop tops, gold jewelry and red lipstick.
And after the butt-grab seen around the world following the VMAs and his now infamous performance with Miley Cyrus, the married dad was careful to keep his hands to himself the entire time.