There He Goes Again! Robin Thicke Has The Roving Eye In Miami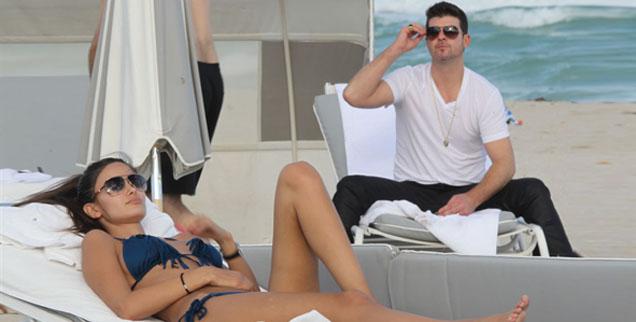 Robin Thicke's a happily-married man … it just doesn't always look that way.
The R&B singer, who's said he and wife Paula Patton share "the most functional, dysfunctional marriage in Hollywood," was again caught with a case of the roving eye Thursday, as he relaxed in Miami Beach without his sexy better half.
In one shot, Thicke is blatantly checking out a gorgeous beach goer who, ironically, bears more than a passing resemblance to Emily Ratajkowski, the flawless Polish stunner who was hailed as a major reason for the success of the video for Thicke's breakout hit "Blurred Lines."
Article continues below advertisement
Next up for the dapper singer is a duet in Anchorman 2 with Will Ferrell's alter ego, Ron Burgundy.