Miley Cyrus Strokes Robin Thicke's Crotch During MTV VMAs Performance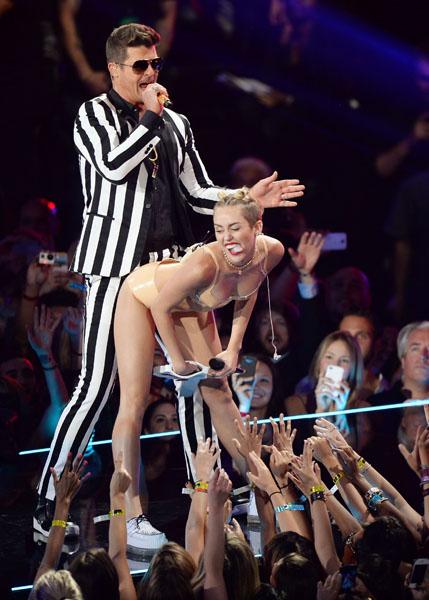 Gyrating, thrusting, twerking and grinding her bum on Robin Thicke's groin, Miley Cyrus made every attempt to ditch her Disney image at the 2013 MTV Video Music Awards on Sunday.
And, as if to emphasize the point that she is no longer a child star, the singer even stroked the R&B crooner's crotch with an oversized foam finger.
Wearing a tiny bodice the former child sang her hit We Can't Stop.
The bizarre performance took place on a stage crammed with people dressed as teddy bears.
Article continues below advertisement
During the more than six-minute long set the 20-year-old slapped another woman's curvy butt and skipped along the stage only stopping to shake her rear at the screaming audience in the mosh pit.
Then she whipped off her furry teddy to reveal a beige-colored bra and panties before Thicke joined her on stage.
The R&B singer didn't seem to notice Cyrus's off-key rendition of his hit song Blurred Lines.
2013 VMA - Artists.MTV - Music
The 36-year-old merely smirked as she rubbed and shook her bum on his groin, all while his wife, actress Paula Patton, was in the audience.
Not content with grinding on Thicke, Cyrus used the foam finger to stroke herself in between her own legs as well thrust her pelvis at the audience.
Thicke clearly enjoyed the performance. He tweeted later: "That was dope. Shout out to @MileyCyrus…"