He Laid It On Thicke: Blurred Lines Singer Kissed, Groped & Told Butt Grab Blonde, 'I Want To Get You Into Bed!'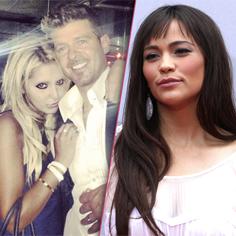 It sounds as if the lines might be a bit blurred in Robin Thicke's marriage to Paula Patton.
Lana Scolaro, the 20-year-old stunner who was seen in a risque fan pic with the pop singer that went viral, dishes details to Life & Style about the raucous time they spent with one another at a nightclub party following the MTV VMAs last month.
She said the hunky singer hit on her at a pal's party weeks earlier, and while she initially rebuffed his advances because he's married, he put to rest her ethical concerns, saying his wife is "chill."
Article continues below advertisement
Scolaro said, "I don't think he cared what Paula thought ... I was with him the whole night ... his hands were everywhere."
She said the post-VMAs fun continued when she joined the couple for a party at a suite the Greenwich Hotel.
"I went to the bathroom, and when I came out he was standing there," Scolaro told the magazine. "He turned off the lights so no one could see us, and he started making out with me. He was grabbing me. He was like, 'I want to get you into bed!'"
The two did not do the deed however, she told the magazine, as they kept getting interrupted by other party-goers, though Robin gave her his number and said they'd rendezvous when he's back in the Big Apple for Fashion Week this month.
Robin and Paula have a 3-year-old son named Julian, who appears in the video for Robin's new single, Give It 2 U.