Cyndi Lauper Slams Miley Cyrus' Risqué VMAs Set: 'So Bad, So Sad… It Wasn't Even Art'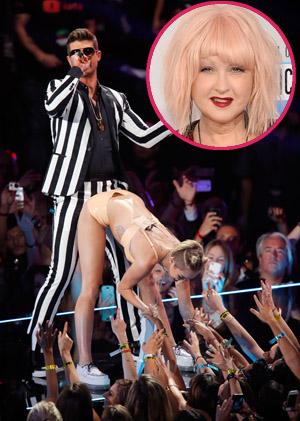 Article continues below advertisement
Cyndi -- like others before her -- took exception with the song's lyrics, saying it implies that "when a woman says, 'No' that she means 'Yes'… it's frightful."
"And there she is a young twenty-something, basically simulating a Girls Gone Wild video onstage … I just felt like it was so beneath her … I felt sad, really sad for her."
audio https://media.radaronline.com/brand-img/wp-content/0x0/2013/08/cyndi-lauper-on-miley-cyrus.mp3
The Grammy-award winning singer noted that while Lady Gaga showed off her rear end in her set at the show, the bit itself was artsy, whereas Miley's duet was pure raunch.
"It wasn't even art," said Lauper, who's sold more than more 50 million albums worldwide.
2013 VMA - Artists.MTV - Music - Miley Cyrus