Pharrell: Women Aren't Cast As Sex Objects In Blurred Lines Video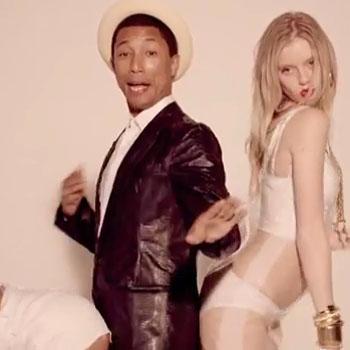 The video for Robin Thicke's song of the summer, Blurred Lines, has drawn plenty of controversy, as some say it objectifies women; but his collaborator on the single, Pharrell Williams, insists the music video is more about style than sex.
"We were trying to make a moving version of a page in Vogue, where you might see a woman's breast," Pharrell, 40, told Rolling Stone. "The body isn't meant to be objectified.
Article continues below advertisement
As we previously reported, a racy version of the clip shows Pharrell, Thicke and T.I. dancing alongside three breathtaking models -- Emily Ratajkowski, Jessi M'Bengue, and Elle Evans -- all topless. (While that version has been banned from YouTube, the clean version -- which has nearly 100 million views -- is still plenty sexually suggestive.)
"I know the video has caused some controversy, but my admiration for women supersedes anything I could ever say," Pharrell told the magazine. "We all come through the conduit of the bodies of beautiful women."
Thicke earlier joked about the scandalous nature of the video with GQ, saying, "We tried to do everything that was taboo … everything that is completely derogatory towards women.
"Because all three of us are happily married with children, we were like, 'We're the perfect guys to make fun of this.' People say, 'Hey, do you think this is degrading to women?' I'm like, 'Of course it is. What a pleasure it is to degrade a woman. I've never gotten to do that before. I've always respected women.
"So we just wanted to turn it over on its head and make people go, 'Women and their bodies are beautiful,' he said. "Men are always gonna want to follow them around."