Married Man Robin Thicke Hits On Former Playboy Model: 'He Told Me How Sexy I Am,' She Says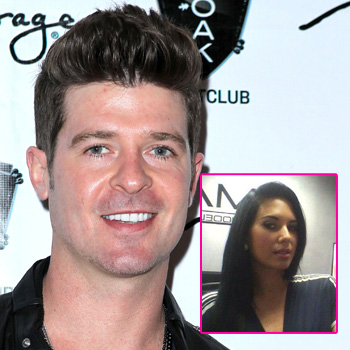 By Amber Goodhand - RadarOnline.com News Editor
Robin Thicke is married with a son, but according to former Playboy model Amy Varela, he doesn't act like it.
Duets judge attended a charity event hosted by Mario Lopez on June 29 in Jacksonville, Florida, where Amy also was with her company Manikin Models — and she claims he put the moves on her.
"I approached him, and introduced myself as Amy, and wanted to know what all the buzz was about. He told me he was as singer and that his name was Robin Thicke," Amy told Celebrityviplounge.com.
Article continues below advertisement
"I then told him that I had heard of him, and I gave him props for working hard in the industry. He asked me what I did, and I told him that I owned an agency and that I was a former model for Playboy."
Amy claims Robin told her that she was "the most beautiful girl he had seen in a while" and that he was "very relaxed and flirty."
"He proceeded to tell me how sexy I was, and that he didn't want to leave Jacksonville. We danced and had an enjoyable time drinking, partying, etc, of course because it was harmless to me at the time. He asked my partner to take a photo with me, so we did," Amy said.
While Amy admits to flirting, she claims it wasn't until the next day she found out he was married from a friend of hers.
"She said, 'Didn't you know he was married, and that he just had a child?' I felt horrible.. and then it all made sense why he wanted no communication with me," Amy said.
"I didn't want to look like the groupie girl, or an easy girl, and that's what I felt like after."
Robin has been married to actress Paula Patton since 2005 and the couple has a two-year-old son named Julian together.