Kelly Clarkson Shows Off Slimmed-Down Look On Duets Premiere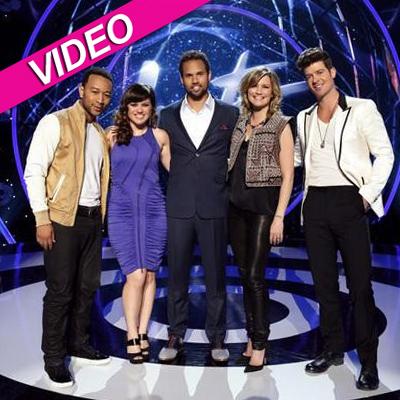 Kelly Clarkson's skinny new look took center stage as the latest reality singing competition, Duets, premiered Thursday night, and we've got the full recap for you right here on RadarOnline.com.
The ABC show, hosted by Quddus, has a format that borrows elements of The Voice and American Idol, as four celebrity judge/mentors -- Kelly Clarkson, John Legend, Robin Thicke and Jennifer Nettles -- take a diamond in the rough under their wing and look to make them stars in side-by-side performances.
Article continues below advertisement
After the duets, the non-performing musicians score the performers, and give their takes on what they saw, as rankings of each contestant are displayed on a leader board. The show's grand prize is a Hollywood Records recording contract.
Clarkson, Legend, Thicke and Nettles kicked things off with a group performance of Let Me Entertain You before scouring the country for the next big show biz talent.
Clarkson nabbed Jordan Meredith and Jason Farol, Legend selected Johnny Gray and Bridget Carrington, Thicke picked Alexis Foster and Olivia Chisholm and Nettles put her chips on J Rome and John Glosson.
Nettles sang Sugarland's Tonight with Rome, and Stay with Glosson; Legend sang Ordinary People with Gray, and Tonight (Best You Ever Had) with Carrington; and Thicke sang Lost Without You with Chisholm, and Magic with Foster.
Article continues below advertisement
Watch the video on RadarOnline.com
Clarkson, who rose to superstardom winning the first-ever American Idol competition 10 years ago, sang Breaking Your Own Heart with Farol and Stronger with Meredith; her proteges finished seventh and eighth out of eight (though no one was eliminated).
Clarkson joked, "That's a little suspect," at the opening dud.
The week one rankings read: Rome, Gray, Foster, Glosson, Chisholm, Carrington, Meredith and Farol.
Duets airs Thursdays on ABC at 8/7c.