TMI! No 'Blurred Lines' Here: Robin Thicke Says He & Wife Paula Patton Have Sex To His Music As She Plays Groupie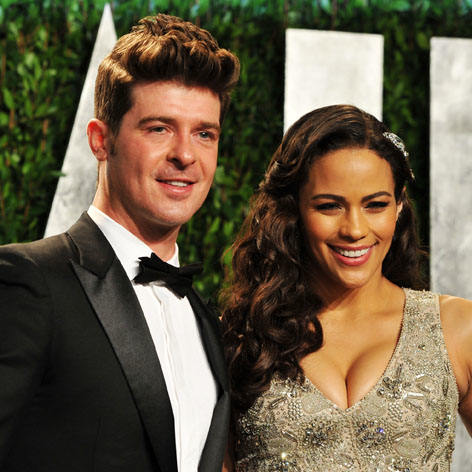 Robin Thicke didn't blurred any lines in talking about his relationship with Paula Paton.
The R&B singer and the Mission: Impossible star have been together since they were teenagers and married since 2005. The key to their relationship is keeping it super hot -- and just a little bit kinky.
"We're overspiced. We could probably take a few spices off the shelf," Thicke told Elle magazine.
They have sex to his music, Thicke confessed, with Patton apparently enjoying her hubby's new superstar status, thanks to his megahit, "Blurred Lines".
Article continues below advertisement
"She likes to do it more than ever now. Sometimes she'll even play groupie for me," Thicke revealed.
He was more circumspect though on the rumors he is especially well-endowed. "Listen, compared to my son, I'm packing. If I'm next to LeBron James? It's probably not quite as impressive," he told Elle's Mickey Rapkin.
The singer insists his romance with Patton isn't all about sex though. He believes in over-the-top gestures.
"I like to take her out to a fancy, six-course meal that lasts three hours and stare into her eyes. Of course it's a little schmaltzy. There's nothing women love more than an effort," Thicke said.
Miley Cyrus' twerking partner also revealed that he and Patton -- parents to a three-year-old son -- fight like cats and dogs but never over the sexiness either of them ever has to bring to the job.
"In our household, nudity is not frowned upon," Thicke said with a wry smile. "We're much more free with ourselves."