Exclusive
Miley Cyrus 'Wrecking Ball' Director Accused Of Lewd Conduct: 'He Took Advantage,' Model Claims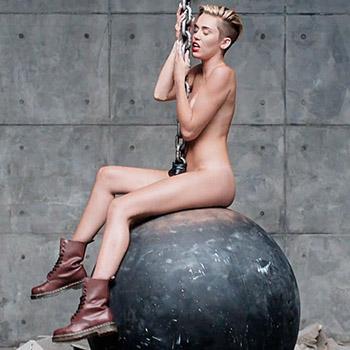 Stark naked, licking hammers and writhing around in rubble, Miley Cyrus proved yet again that she's no longer a Disney darling in her new music video for "Wrecking Ball."
The video's director, Terry Richardson, posted even more X-rated pics from the shoot on his website, showing 20-year-old Miley embracing him while wearing an open robe, frolicking in sheer white panties and a cut-off tank, and twerking against a wall.
Article continues below advertisement
But now, as the video breaks viewership records on Vevo, a model who previously worked with Richardson is stepping forward to blast the photographer for a history of sexual harassment and warn Miley about her new creative collaborator.
"If Miley wants people to think that she's an empowered woman, in control of her own image, then it behooves her not to endorse someone who's done things like Terry has," ex-model Jamie Peck tells RadarOnline.com exclusively.
Peck first met Richardson at a party in 2004, when she was 19, and he asked her to model for him at his studio.
"He didn't seem normal, but he did just like a regular nude shoot with me," Peck tells Radar. "He didn't cross any lines at first."
All that changed at their second shoot.
"I told him I had my period so I wanted to keep my underwear on, and he asked me to take my tampon out for him to play with," Peck says, even claiming that Richardson told her he wanted to make "tampon tea."
Article continues below advertisement
Peck says she's since heard "he's gotten other people to do tampon stuff, so I'm pretty sure he was serious."
When she declined, Peck claims, Richardson got naked.
"Before I could say 'whoa, whoa, whoa!' dude was wearing only his tattoos and waggling the biggest d**k I'd ever seen dangerously close to my unclothed person," she wrote in her first expose on the incident.
And while the chain of events is still hazy to this day, Peck claims that she was pressured into giving Richardson a hand job and allowing him to ejaculate on her hand as his assistant watched.
"It's hard to say how I was feeling at that moment, because I've asked myself so many times why I didn't just tell him to f**k off and walk out of there," Peck tells Radar.
"I'm not dumb. I was just very naive at the time, and he definitely took advantage of that."
"I would say what he did to me is probably his usual m.o.," she adds.
"He invites a girl to his studio and then just progressively crosses a line and tries to get you to do stuff you did not originally sign up to do. I think he gets off on playing hard and fast with the rules of consent. I mean, most men would not want a hand job from someone who does not seem like they want to give it to them."
Article continues below advertisement
After that experience, Peck stopped returning Richardson's calls requesting another shoot and asking her to join him on a trip upstate New York.
She says, "I think my story is kind of a best case scenario because he would have taken it farther if I called him back the third time. He wanted to take me to a cabin in the woods."
Years later, Peck says, she's sickened to see him getting bigger and bigger despite his dirty secrets.
Now a writer for TheGloss.com and MTV's Hive, Peck explains: "We live in a misogynistic culture, so it's not surprising that someone can get away with doing those things and still be famous and celebrated."
Indeed, Peck is hardly the only person to accuse Richardson of such behavior. In 2010, model and actress Rie Rasmussen took aim at the photog in a rant published in the New York Post.
"He takes girls who are young, manipulates them to take their clothes off and takes pictures of them they will be ashamed of," she said. "They are too afraid to say no because their agency booked them on the job and they are too young to stand up for themselves. His 'look' is girls who appear underage, abused, look like heroin addicts. … I don't understand how anyone works with him."
Article continues below advertisement
And another investigation by Jezebel.com that same year featured several reports from models, agents and other fashion industry insiders accusing Richardson of similar behavior.
Peck says she's frustrated that Richardson's behavior continues to be an open secret as he becomes more and more famous. "The disconnect between me and the people on his side is not the veracity of my claims," she says. "Even his closest friends are like, 'Yeah, Terry does this stuff. What of it?'"
Richardson himself has laughed off the accusations, saying, "I don't like to exploit anybody. That's not my bag. Everyone has fun on my shoots."
But Peck encourages Miley and other celebrities who work with Richardson to take a second look at his background. After Richardson toured with Lady Gaga, for example, Peck says, "I was really disappointed because she preaches female empowerment. Her association with Terry is just further proof that it's only a marketing gimmick for her."
"I'm not blind to the realities of the industry," Peck explains. "I know it can be good for a career to shoot with him."
But for starlets hoping to shoot with Miley's BFF, she warns: "Know what to expect before you go in. Know what you are willing to do and stick to it. Bring a chaperone along. If he'd even allow that."