Sibling Of Mick Jagger's Late Girlfriend L'Wren Scott: 'I Have Been Frozen Out Of My Own Sister's Funeral'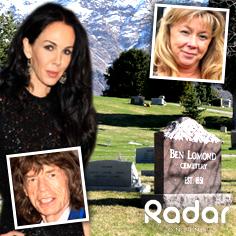 L'Wren Scott's sister Jan Shane says she's livid that the model will not be laid to rest beside her late parents, as it was their dying wish.
Shane, 53, says that the family had agreed in principal to all be buried beside their Mormon parents at a small cemetery in Ogden, Utah, but that final resting place is now causing a family feud, with the late beauty's boyfriend Mick Jagger caught in the middle.
Article continues below advertisement
On Friday, Jagger's daughter Karis was seen looking at different cemeteries in Los Angeles for the burial of the fashion designer, rankling the late fashionista's devout Mormon sister Shane, who claims she's been frozen out of any discussions of the plans.
And Shane insists that Scott (who was born Luann Bambrough) had agreed to be buried at the family plot at the Ben Lomond Cemetery, where the gravestone is just five miles from the family home in Utah. (L'Wren's adopted parents Ivan and Lula Bambrough are buried there, and L'Wren's name is etched on the back of the headstone along with those of her siblings.)
Livid Shane has been cut off from details of her late sister's funeral arrangements, only learning the information from media reports.
Insiders said Scott's body has flown from New York to Los Angeles, and will be buried in a quiet "family and close friends only" ceremony in the next few days. Jagger, who called off his Stones tour in Australia in the wake of the tragic suicide, is currently staying in a five-star hotel in Hollywood.
Article continues below advertisement
Speaking from her home in Roy, Utah, Shane said, "I have been frozen out of my own sister's funeral.
"My brother Randy won't talk to me or call me about the arrangements, or my hopes that L'Wren be buried beside mom and dad. I am very angry about this and I cannot get answers from anybody — and now, I have given expecting up to here from Mick or anyone."
Choking back tears, Shane added: "It is clear that I will not be able to attend the funeral or service in Los Angeles and it has left me heartbroken. How could this happen to my family when we were so close not so long ago?
"I can't even imagine what our parents are thinking now … I just ache for them. I don't even have the words to express what I feel anymore. No one will talk to me or said anything about a funeral; I believe they have been all instructed not to."
Shane, who said she hasn't heard from "anyone in the Jagger camp," asked, "Are they going to make it so secret that her sister is banned from attending?"
Rocker Jagger, 70, has been working with L'Wren's brother Randall to plan the funeral. Randall is said to be "disgusted" that Jan spoke to media last week, during which she claimed her sister envied her 'simple' lifestyle in Utah, and that she had been unhappy with her jet-set life.
Article continues below advertisement
"My parents paid for this plot of land at the cemetery, so the kids wouldn't have to worry about that," Shane said. "Mom picked out the headstone when dad passed away. We just had add name after she passed. Randy never had it added, so I called and had it done. Our parents thought we would all be buried there with them. It was their wish.
"L'Wren would have wanted to come home. It's the family plot. It is where we thought we would rest together for eternity."
Hotel staff in Hollywood claim that the Rolling Stones frontman has chosen to dine in his suite and barely left his room. On Friday, Jagger heir Karis, born after a fling with model Marsha Hunt, looked for plots and then headed to Jagger's suite to discuss their options.
"Karis rushed to Mick's side on Friday as she wanted to support him," a source said. "She took her husband, but everyone agreed that they didn't want the grandkids seeing Mick in such a state. He is a hero to them and to see him so low would be tough on everyone.
"She knew how much L'Wren meant to her father and wants to be there to support him. Karis really is a very sensitive and caring person, who dotes on her dad. This is a time when she wants to show him full love and support."
The insider added that Karis, 43, has taken the 49-year-old designer's loss "particularly hard, as they were close and loved talking fashions and trends."
We'll keep you updated on the latest in this story, right here on Radar.