Business Collapse? Broken Love? Family Issues? Theories Emerge As To Why L'Wren Scott Committed Suicide -- The 5 Latest Developments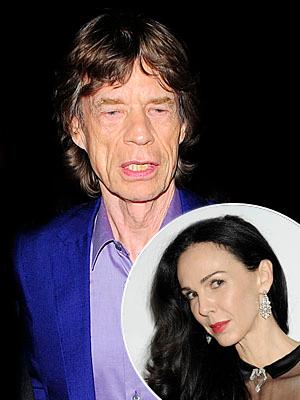 We've got all the latest in the tragic suicide of L'Wren Scott, the 49-year-old fashion designer best known for her longtime relationship with Rolling Stone Mick Jagger who was found hanged to death on a scarf in a Manhattan high-rise on Monday.
Determined To Die
Authorities in New York Wednesday said that Scott was so intent on ending her life, she also used a necktie to hang herself with as well as a scarf. A law enforcement insider told the NY Post that the "necktie would apply more pressure," and Scott -- who "clearly wanted to do the job right" -- "must have figured that if the scarf wasn't long enough or something, then the necktie would choke her out."
Article continues below advertisement
'Blood On His Hands'
Reports remain in conflict as to the status of Scott's relationship with Jagger at the time of her death: The rocker's camp said allegations they had parted ways were "100 percent untrue," while a pal of Scott's informed the NY Post that the English singer "has blood on his hands" after he broke up with her in recent weeks. Jagger, as we previously reported, said on Tuesday that he and Scott had "spent many wonderful years together and had made a great life for ourselves;" and that he would "never forget her."
The Final Countdown
Insiders told the paper that in the week leading up to her self-inflicted demise, Scott was holed up at Jagger's villa on the private Caribbean island of Mustique. Normally an affable social butterfly, Scott was not seen at any local destinations, nor did she post any pictures to her social media streams. She came back from the remote locale Saturday, and took her own life early Monday.
Article continues below advertisement
New Insights
Journalist Cathy Horyn, a friend of the statuesque model-turned-designer, revealed in a New York Times essay Tuesday that Scott was about to shut down her fashion house this week. In a piece titled "Memories of a Friend, a Teacher and a Fighter," Horyn wrote, "I sent her text on March 12, checking in. She didn't reply, but that wasn't unusual. I learned since her death that she was planning to close her business, with an announcement on Wednesday. Still, as painful as the decision must have been for her, I wouldn't draw any conclusions from it about her state of mind. Nor should any credence be given to reports of a breakup with Mick. It's rubbish." Horyn, calling Scott a "vital, intelligent woman," called the suicide "inexplicable" and shocking.
Another Theory
Scott's estranged sister Jan Shane, who is a practicing Mormon, said that the gap in the fashionista's life in not having children was the driving force behind the shocking suicide. "I know deep down she wanted a family and kids, and I think she deeply wanted it and couldn't get it. I think it bothered her," Shane, 53, told Mail Online. She said she witnessed her sister's strong desire for offspring during their father's funeral 12 years ago, when Scott told her she envied her. "She had her career and her company and everything -- she'd made it. I looked at her life I didn't believe what she was saying and she told me, 'You have your family.' And I thought 'You do, too!"' the sister said.
We'll keep you updated on the latest in this story, right here on Radar.