L'Wren Scott Was 'Embarrassed' Over $6 Million Fashion Company Debt, Refused To Ask Boyfriend Mick Jagger For Help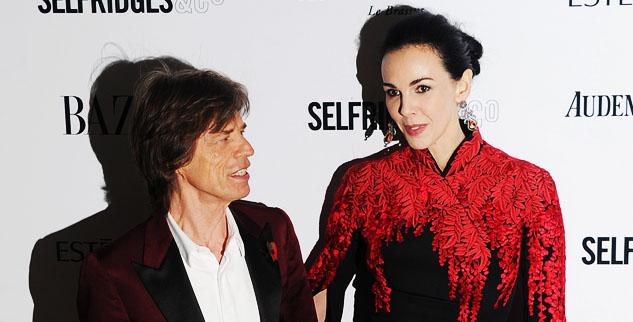 L'Wren Scott's tragic suicide on Monday "shocked and "devastated" her Rolling Stones boyfriend Mick Jagger, but the fashion designer was reportedly $6 million in debt and was "embarrassed" over her clothing empire crashing.
The 49-year-old canceled her London Fashion week show in January and her company, LS Fashion LTD, filed documents in the UK declaring that they were $5,899,548 in debt according to Mail Online.
Article continues below advertisement
Prior to being found by her assistant hanged in her $5.6 million luxury NYC apartment, she also reportedly owed her creditors $7.641 million but always refused help from her rock star boyfriend, who is worth a reported $300 million and a source told them she was "embarrassed" by the financial crisis.
Her company's debt was growing over the years, going from $2,120,015.67 in 2009 to $3,063,160.87 in 2010.
A fashion source told the Mail Online about her dire situation, saying: "L'Wren was in a lot of financial trouble. She was unable to pay her staff and her suppliers and it had been going on for a very long period of time.
"She wanted so badly for things to be a success. Whereas she got her outfits on a number of high profile people, the clothes were not a commercial hit and didn't fly off the shelves. It was a huge burden on her and she didn't want to fail."
Article continues below advertisement
Her recent troubles could easily have been fixed by Jagger, but the source said she didn't ask him to bail her out.
"Everyone was very much left wondering why she didn't ask Mick for help. But she didn't. Things were left a long time and she spent the past few months struggling to pay the vast amount of her out goings. It was a tragic situation and she kept it from everyone.
"Her staff expected the company to go under and her fabric suppliers and tailors were close to ending their working relationship. The bills just weren't getting paid."
L'Wren previously spoke out about her hate for being referred to simply as Mick Jagger's girlfriend as she wanted to be recognized for her own talents, although she often used the rocker as her muse.
She said previously: "I'm a fashion designer. I don't want to be defined as someone's girlfriend.
"You always wonder if people will pay attention to the hard work that goes into what you do. And when you're taking something on your own, it's your company, your investment – your life."
If you, or anyone you know, is struggling with thoughts of suicide, please immediately seek help — you can speak with a skilled, trained counselor at a national Suicide Prevention Lifeline crisis center in your area, anytime 24/7 — call 1-800-273-TALK (8255).