Mick Jagger's Agony: Rolling Stones Frontman Cancels Australian Concert As It Emerges Tragic Girlfriend L'Wren Scott 'Self Harmed' Before Suicide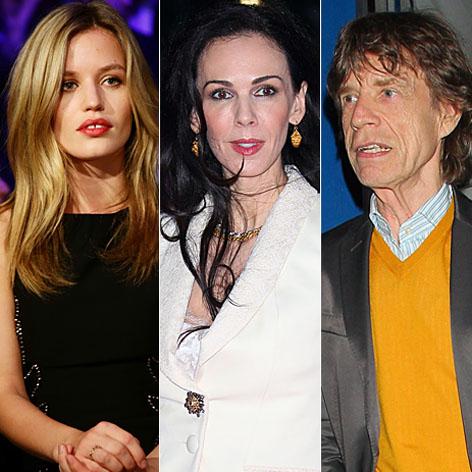 We've got all the latest in the tragic suicide of L'Wren Scott, the 49-year-old fashion designer best known for her high-profile relationship with music icon Mick Jagger who was found hanged to death on a scarf in a Manhattan high-rise on Monday.
Turned To Stone
A photograph circulating online of Jagger shows the musical demigod looking morse, devastated and in turmoil after hearing the horrific news. The 70-year–old lead singer was leaving an eatery in Perth, Western Australia as news broke over the death.
Article continues below advertisement
Cancelations
The Rolling Stones Tuesday cancelled their gig in Perth following Scott's suicide. Frontier Touring, the outlet handling the six-show Aussie leg of the band's "14 On Fire" tour, said that "no further information is available at this time" as to when the band would play next; and that "ticket holders are asked to hold on to their tickets until a further update is available." On source told The UK Sun the band "may have to cancel the whole run in Australia depending on how Mick is."
Watch the video on RadarOnline.com
Visit NBCNews.com for breaking news, world news, and news about the economy
Last Public Statement
Police said that the late Scott left no note or message in her final moments. Scott's Twitter page was discharged in the wake of her suicide; The last tweet (likely a promotional one) sent from the account Monday — just hours before her body was discovered — read, "today #love #timwalkerphotography #lwrenloves." Her Facebook and Instagram accounts were subsequently removed in the wake of her death.
Article continues below advertisement
Smoke Signals?
L'Wren Scott's friends were concerned about her behavior in the weeks leading up to her death, as the fashion designer had reportedly been "acting strangely" and was "ducking phone calls", sparking concern from her pals. A source told the NY Post that confidantes of the famed fashionsista have "known that something was going on, and it's been going on for at least a week." One insider spoke of an "incident" in which Scott did harm to herself, while a source told MailOnline.com the "troubled" beauty "suffered from depression."
Jagged Relations
Some of Scott's unhappiness, insiders said, was her relative exclusion from the extended Jagger family despite having dated the legendary rock singer since 2001. In a recent incident those close to the late designer said rubbed her the wrong way, Jagger's ex Jerry Hall didn't invite her to a dual baby shower she threw for the rocker's 42-year-old daughter Jade Jagger and her 21-year-old daughter Assisi, who are both pregnant.
Article continues below advertisement
More Fallout
Not all of Jagger clan was estranged from Scott, as his model daughter Georgia, 22, nixed an appearance for Camilla Franks Melbourne Fashion Week to rush to her father's side. Georgia and Scott had been seen out many times publicly, including in September, when she joined her rocker father at L'Wren's London Fashion Week show. Her rep said in a statement Monday, "In light of the recent sad news, Georgia May Jagger will not be participating in Virgin Australia Melbourne Fashion Festival for the Camilla Grand Showcase. We ask that you respect Ms. Jagger and her family's privacy at this very difficult time. On behalf of the Festival and the Camilla team we offer our sincere condolences to Ms. Jagger and her family."
Twitter Tributes
A number of prominent personalities mourned the statuesque fashion pro as news spread of her death. Mindy Kaling called her an "amazing designer," while Olivia Munn wrote that she was "shocked and saddened by the passing of @lwrenscott ... she was an amazing soul, talented artist and an unbelievably giving friend. RIP." Besides Jagger, the celeb closest associated with Scott was her friend Nicole Kidman, whose rep took to her account to write, "Nicole and L'Wren were close friends for 25 years. She is heartbroken and in shock right now, and unable to say anything."
We'll keep you updated on the latest in this story, right here on Radar.
If you, or anyone you know, is struggling with thoughts of suicide, please immediately seek help. You can speak with a skilled, trained counselor at a national Suicide Prevention Lifeline crisis center in your area, anytime 24/7 — call 1-800-273-TALK (8255).