Nicole Kidman Battled Depression After Split From Tom Cruise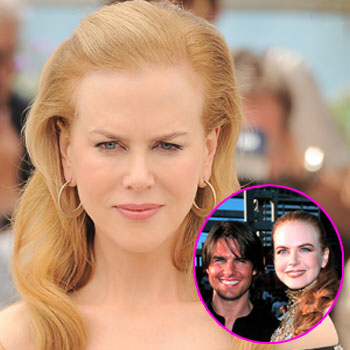 Nicole Kidman has revealed that she sunk into a deep depression when her marriage to Tom Cruise started to unravel, RadarOnline.com reports.
The Moulin Rouge actress also admitted that she married the Mission: Impossible star too young – she was just 23 when they tied the knot in 1990. But she is thankful for her two adopted kids.
"I got married really fast and really young," Kidman told Australian magazine Who.
Article continues below advertisement
"But I don't regret that because it got me Bella and Connor and I did have a fantastic marriage for a long period.
"Then when it didn't work out I had to really dig deep and find my way through depression. I have no regrets about all of it. It was all part of growing up."
Kidman, 45, split with Tom Cruise after 11 years of marriage, and the Aussie beauty believes her depression came because she was unable to conceive with Cruise. The failed fertility treatment and miscarriages took their toll and an ectopic pregnancy added further to the gloom.
Despite those early setbacks, she moved on and later married country singer Keith Urban in 2006. And in July, 2008, her biological daughter Sunday Rose was born. They added a second daughter to their family, Faith, born to a surrogate mom in December 2011.
"I had so much time thinking that wasn't going to happen in my life and trying to understand that. When it did happen — and for it to be a surprise — that was great," Kidman said.
MORE ON:
hollywood happenings
Article continues below advertisement
"I had tried and failed and failed and failed. Not to be too detailed, but I've had an ectopic pregnancy, miscarriages and I've had fertility treatments. I've done all the stuff you can possibly do to try to get pregnant.
"Every woman who has been through all those ups and downs knows the depression that comes with it.
"So the way it just happened with Sunday was like, 'What?' The percentages were so low. It is the miracle in my life."
RELATED STORIES:
So Cute! Tom Cruise With Isabella & Connor As Babies
Scientology Turned Isabella And Connor Cruise Against Mom Nicole Kidman, Claims New Report
Cool Dad Alert! Tom Cruise Goes Clubbing With Connor & Isabella
Is Isabella Cruise Signing Up To Join Church of Scientology's Controversial Sea Org?