L'Wren Scott Suicide: Family Feuds Over Mick Jagger's Plan To Have Her Buried In L.A.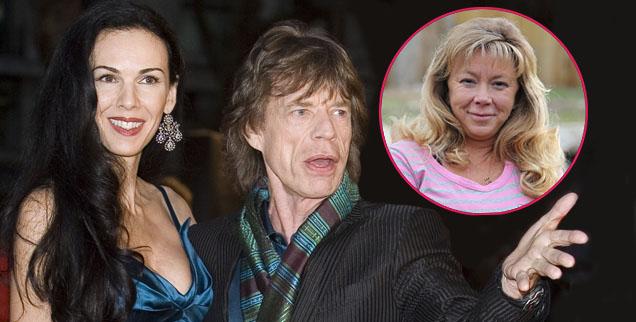 L'Wren Scott is not going gently into this good night.
The fashion designer and longtime girlfriend of Mick Jagger, who committed suicide on Monday, is now the subject of a family feud over where she should be buried.
The Rolling Stones frontman is now making plans to fly his lover's remains from New York to Los Angeles where a private service is being organized for next Saturday.
But her sister, Jan Bambrough, says she's been told nothing about it and wants L'Wren buried at the family plot in Utah.
Article continues below advertisement
"No one has told me anything about a funeral," the grieving sister told the Mail On Sunday .
"I've not had a single call from anyone in the Jagger camp. I'm beside myself. Are they going to make it the funeral so secret that her own family is banned from attending?"
L'Wren was the adoptive daughter of Ivan and Lula Bambrough, who are both deceased and buried in Utah. A tombstone marks their gravesite, and on the back are etched the names of their three children, including L'Wren.
"L'Wren would have wanted to come home. It's the family plot," Jan told the Mail.
Her brother, Randall, apparently disagrees.
He's a financial advisor and reportedly was trying to help L'Wren sort out her fashion line's money woes. He is also, reports the Mail, close to Jagger, and is working with him on the plans for L'Wren's Los Angeles funeral.
Jagger is already in Los Angeles, staying at a hotel with some of his children. Randall Bambrough will be escorting his sister's remains on their final flight to California.
But his sister, Jan, a devout Mormon, is still hoping she can change that final destination and have her buried in Utah with her parents.
"It is where we thought we would rest together for eternity," she said.