Exclusive
Secret Behind L'Wren's Suicide? Mick Jagger Flaunted Flirtations With Hot Young Pop Stars In Months Before Girlfriend's Tragic Death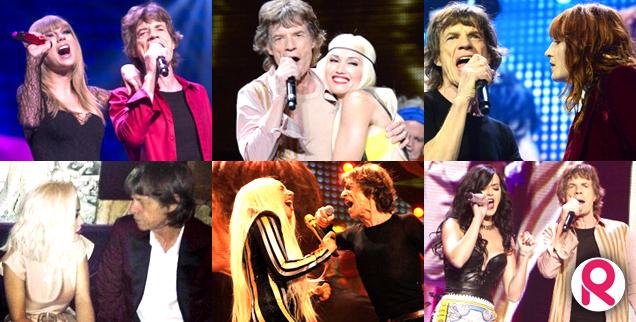 L'Wren Scott and Mick Jagger were together for 13 years, but in the last months before her death, she was forced to watch him cavort onstage -- and off -- with an array of hot pop stars much younger than her. As the whole world looks for reasons why the stunning and successful fashion designer would have chosen to end her life, only RadarOnline.com has all the details of Jagger's many flirtations.
Last fall, Katy Perry went public with claims that Jagger had made a pass at her around 2002, just one year after he began dating Scott.
Article continues below advertisement
"I actually went to dinner with him one time, and he hit on me …" Perry told an Australian radio station.
Perhaps to protect Scott's feelings, Jagger released a statement insisting Perry must be "confusing him with someone else."
Their shared history didn't stop him from inviting her to join the Rolling Stones onstage for a performance in May 2013. Wearing thigh-high leather boots, a miniskirt and a leather bustier, Perry saucily strutted around Jagger as the two shared a steamy duet to "Beast of Burden."
"Yes I just did gyrated sic on Mick Jagger," Perry bragged on Twitter after the show.
Just days before, he had been joined by Gwen Stefani -- who wore skin-tight leather leggings -- for a touchy-feely performance of "Wild Horses."
And only a few weeks after that, Jagger invited Taylor Swift to join him for a duet of "As Tears Go By." Wearing tiny hot pants, the leggy blonde draped herself all over Jagger during the song and shared a flirty dance with him after gazing into his eyes during the chorus.
Article continues below advertisement
But his flirtations weren't all just for show. The 70-year-old was spotted deep in an intimate conversation on a banquette with British pop star Rita Ora at the Harper's Bazaar Women of the Year Awards in London on November 5, as Scott was across the room.
And on November 19, he was spotted chatting arm-in-arm and hip-to-hip with Ke$ha at Chateau Marmont in L.A.. Adding insult to injury, Scott was the woman of the hour that night, hosting the party for the launch of her collaboration with Banana Republic.