Catatonic With Grief: Mick Jagger 'Not Really Here' Following Suicide Of Girlfriend L'Wren Scott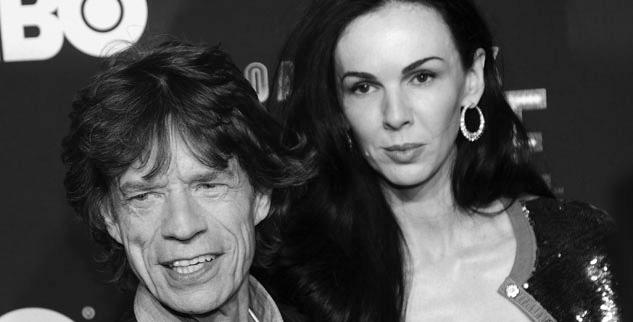 Mick Jagger remains "not really well" and "not really here" three days after the suicide of longtime girlfriend L'Wren Scott, and we've got all the latest on how the music legend is dealing with the death of his 49-year-old love, and other details in the story, right here on RadarOnline.com.
"He's Not Really Here"
Rolling Stones drummer Charlie Watts told Mail Online the 70-year-old frontman is "holding up," but eviscerated with grief after Scott hanged herself on a scarf in a Manhattan high-rise on Monday. "He's not really well," Watts said. "He's not really here. It was such a shock."
Article continues below advertisement
Initial Reaction
Workers at the upscale restaurant Coco's in Perth, Australia, speaking with Closer magazine, recalled the details of the grim moment Jagger learned of his lady love's death. Denise Zammit, restaurant manager, said that the rock icon had "been there about an hour; he had a seafood entrée and a main meal of local fish, and then somebody from his entourage came in" and broke the awful news. She continued, "Before that he was talking to our waiter who is also English and he was having a great time with him. They were talking about England and where he'd been in Perth and all the things he'd been doing. Before he left the restaurant he shook the waiter's hand and said, 'I'm sorry I have to leave' and he said he'd had a great night. He said he had to leave straight away."
Rallying The Troops
After canceling the remaining dates on their tour there, the band remains in Australia, and according to reports, were unsure if they'd be departing Thursday. Watts said that the band plans "to come back to Australia and New Zealand as soon as it proves possible." Keith Richards Wednesday echoed many sentiments of shock at the fashionista's suicide, saying that "no one saw this coming." Richards added that the singer has "always been my soul brother and we love him."
Article continues below advertisement
'Controlling' Scott Compared To Yoko Ono: Report
Scott rubbed the rest of the Stones the wrong way "because she was so controlling," an insider told the NY Post Wednesday. "When they saw her, they said, 'Here comes Yoko.' " Jagger, aware of the tensions between his bandmates and the beauty, asked her to stay home during their 14 on Fire that kicked off last month, and is suspended in the wake of her suicide. Jagger's daughters never took to the tall beauty either, according to the insider, recalling the unrequited gestures she'd made toward them. "She tried really hard to get along with Mick's daughters. She was always inviting them to family holiday dinners, but they just didn't warm to her," the insider said. "They also thought she was controlling, and that Mick was different, more reserved and less fun, when he was with her."
Official Cause Of Death Released
New York City medical examiner's officials Wednesday confirmed that Scott's death came as result of hanging. Spokeswoman Julie Bolcer delivered the news three days after the fashion designer was found with a scarf and neck tie around French door.
We'll keep you updated on the latest in this story, right here on Radar.