Julia Roberts Tragic Half-Sister Nancy Motes' Body Is Cremated - Ashes To Be Taken To Georgia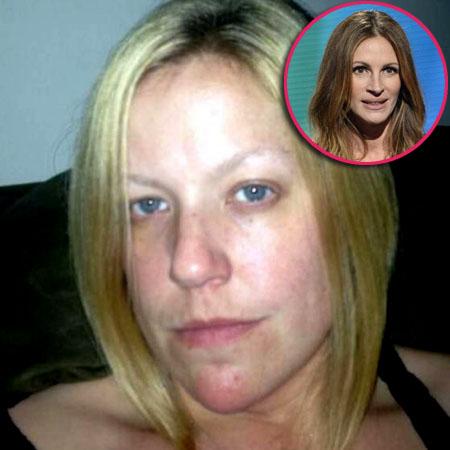 Article continues below advertisement
A source close to Dilbeck said: "John has learned that Nancy's body had been cremated and that he was not in attendance.
"It is understood that her ashes will be returned to Georgia."
The source indicated Dilbeck has been forced to hire a lawyer to sort through Motes' belongings with the Roberts' extended family.
"It's very sad because there are some disputes about who has rights to Nancy's possessions also," the insider told RadarOnline.com.
"He has hired a lawyer to get advice on where he stands and has other people including his own family advising him.
"John's trying to cope the best he can but it has been very tough on him as he was due to marry Nancy this summer."
As RadarOnline.com previously reported, Notes allegedly left a five-page suicide note which detailed how the the Oscar-winning actress supposedly "drove her to do this".
Although the letter was not released, a Los Angeles County Coroner spokesman Capt. John Kades confirmed a note may have been found and a source previously said: "There were three pages of rantings that her sister drove her to do this. There was one page to her mom, telling her how much she loved her and one page apologizing to (her fiancé John Dilbeck)."
Article continues below advertisement
Motes, who had the same mother as the Pretty Woman star, long had bad blood with her A-list sister, 46.
Prior to Motes death, she called the Oscar-winner a "b*tch" and appeared to have called her a "hag" as she vented in a series of tweets sent late last month, illustrating that their relationship likely never healed prior to Motes' untimely overdose death.
In tweets that have since been deleted, Motes on Jan. 19 wrote under the handle @Dabbs76, "So my 'sister' said that with all her friends & fans she doesn't need anymore love. Just so you all know 'America's Sweetheart' is a B—-H!!'"
Article continues below advertisement
"I think that growing up as Pretty Woman's little sister has definitely made me try to see the person inside and not the person outside," she said. "A lot of my life I felt judged for my weight."
It has been a difficult time for Roberts, who has an estimated fortune of $500 million.
Her mother, Betty Lou Motes, 79, is reportedly having treatment for her on-going battle with lung cancer and was in hospital when her daughter Nancy died.
Roberts is expected to attend the 86th Academy Awards this Sunday where she's nominated in the Best Supporting Actress category for her role in August: Osage County.
If you, or anyone you know, is struggling with thoughts of suicide, please immediately seek help. You can speak with a skilled, trained counselor at a national Suicide Prevention Lifeline crisis center in your area, anytime 24/7 — call 1-800-273-TALK (8255).