Listen: Brandi Glanville's Dire Warning To Arch-Nemesis LeAnn Rimes -- Eddie Cibrian Will Cheat Again!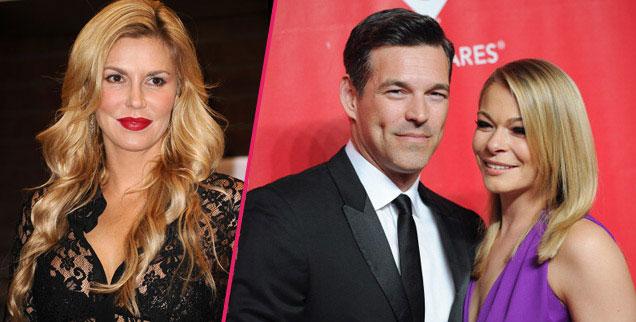 Brandi Glanville doesn't want to see Eddie Cibrian cheat on his wife again, but if she had to make a wager on the chances of it happening, she wouldn't bet against it.
The 41-year-old reality star, appearing on San Luis Obispo, Calif.'s Up & Adam in the Morning, was asked if she thought her 40-year-old ex-husband would be able to stay faithful to his current wife, LeAnn Rimes.
"I hope that I'm wrong, but I do feel that the saying 'Once a cheater, always a cheater'" applies in this instance, she told host Adam Montiel Wednesday.
Article continues below advertisement
"I would have to look at what's gone down with people like Tori and Dean," she said, referring to the couple's current marital crisis. "It's kind of come full circle.
"I think I would have to think that Cibrian would stray from his marriage again, at some point in his life."
Glanville's candid thoughts likely won't ease her current tension with Cibrian, as he said Wednesday that Glanville's recent statement he demanded child support from her was "preposterous" and "another ploy for self-promotion" for her new book, Drinking & Dating: P.S. Social Media Is Ruining Romance.
Hear the audio on RadarOnline.com:
https://media.radaronline.com/brand-img/wp-content/0x0/2014/02/brandi-bit.mp3
Elsewhere Wednesday, Glanville said she'd be interested in following the career course of former Housewife Bethenny Frankel (albeit, with better results).
The 17 Highest Paid Media Figures On TV
"I would like to do some kind of talk show, that isn't Brandi-based, because I get myself in trouble, and ultimately, I think down the road, I would like to make other people uncomfortable and not myself."