Brandi Glanville Admits 'I Did Not Hold It Together' When My Hubby Cheated On Me With LeAnn Rimes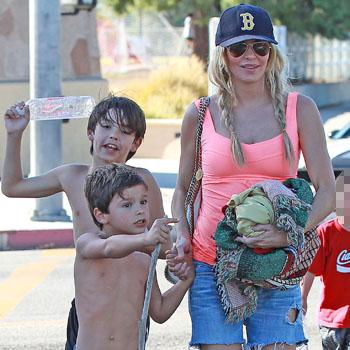 Article continues below advertisement
"Oh, honey, I did not hold it together," Glanville told the caller.
"I think that you have to go through a dark time to come out of it. You have to mourn. I think time heals."
Speaking about her two children with Cibrian, sons Jake and Mason Cibrian, Glanville revealed: "Those little men saved my life."
Four and a half years after the betrayal, Glanville said she's dating but still has trust issues because of her ex's infidelity.
"I'm working on myself," she said.
"I have all these trust issues, and every time I'm dating someone and he's not answering his cell phone, my head goes straight back to that place of not believing him or trusting him."
Aside from her romantic life, Glanville also opened up about her RHOBH cast members, revealing her feud with Kyle Richards is over.
"It's hard because our relationship has changed to much since we shot this season," the 41-year-old model said, referring to their "bullygate" spat.
"I think she's a good person. It took us a long time to be friendly. I don't agree with all the ways she goes about handling things, but ultimately, I do like her now. We're not like best friends, but we're trying to get along right now."