Exclusive
Evil Stepmother? Brandi Glanville Complains She 'Can't Compete' With LeAnn Rimes' 'No-Parenting' Style, Mocks Singer's 'Bullsh*t' Rehab Stay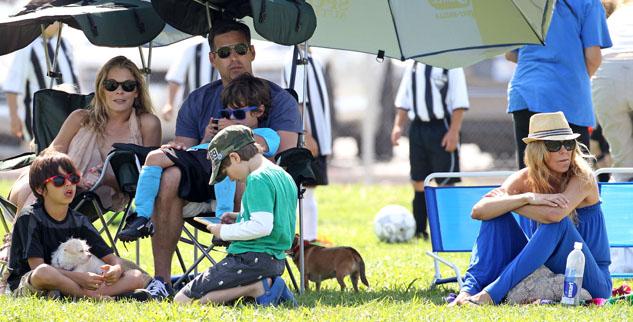 Believe it or not, there are still a few things Brandi Glanville hasn't said about LeAnn Rimes. More than four years after the Real Housewives of Beverly Hills star's husband Eddie Cibrian embarked on an affair with the woman Glanville calls a "c*nt-ry singer," she's starting yet another round to their never-ending feud in her new book, Drinking & Dating, where she complains about Rimes' step-parenting style and mocks her 2012 rehab stay.
Article continues below advertisement
Glanville and Cibrian's sons "Mason and Jake aren't allowed to bring their 'nice' clothes to Mom's house," she claims in the book. "That basically sums up our co-parenting, or, as I call it 'no-parenting.'"
At Rimes and Cibrian's Hidden Hills mansion, she says, her boys "have every video game imaginable (not to mention the iPods, iPads, iRobots and M-Macs), while I still struggle with my f***ing Blackberry. They have a closet full of designer clothes … Sadly, when it's time to come to my house, they are forced to change into the exact same clothes I sent them over to Dad's house in two days earlier. Apparently, they each have a 'Brandi' pile in their room -- not even a 'Mom' pile -- of the things they are allowed to bring with them for their time at my house."
What's more, she explains, "According to the boys, the house has a giant pool, a tree house, a zip line, a tricked-out movie theater, a custom trampoline and -- wait for it -- a rock climbing wall."
"I can't compete," she complains, "and I gave up trying long ago."
But more than jealousy, Glanville says her irritation is rooted in a concern that Rimes and Cibrian's anything-goes parenting style is harming their kids.
Article continues below advertisement
Though she and Cibrian communicate through their assistants, she says, "Unfortunately, he still doesn't consult me when making larger decisions about the boys that we should discuss. For example, I wasn't asked my opinion when he decided to take our ten-year-old son to a R-rated movie. … I don't think it's appropriate."
In addition, she writes, "I wasn't thrilled when both of my sons were given BB gun assault rifles for Christmas … Guns of any kind are not an appropriate gift for little boys -- or for any of us."
"The truth is," she admits, "I have no control over what my ex-husband chooses to do during his time with our children. That's not to say I don't get royally pissed off, but all I can do is scream into a pillow and take deep breaths."
In one of the worst incidents, she says, Mason was hospitalized while spending time with Cibrian and Rimes, and Glanville only found out "once his bonus mom sent out a Tweet. It seemed insane that I wouldn't even be notified that my baby was in the hospital, but that was the reality also known as my life."
Article continues below advertisement
Speaking of Twitter, Glanville, who has freely admitted she got involved with Twitter in order to obsess over Rimes and Cibrian's relationship, doesn't drop the topic without getting a quick jab off at Rimes' own Twitter habit.
When Rimes entered rehab in 2012, she blamed it on stress and anxiety caused by social media, telling Katie Couric, "I think it's really hard to deal with Twitter and Facebook."
Article continues below advertisement
Are you Team Brandi or Team LeAnn? Let us know in the comments!