LeAnn Rimes Admits She Considered Staying Off Social Media After Rehab, But Then Said 'Screw This'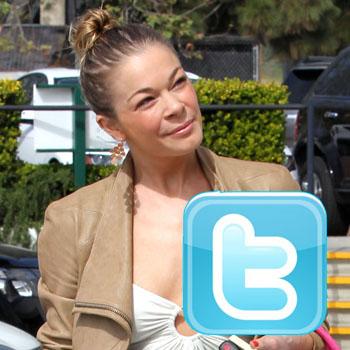 LeAnn Rimes may have checked into rehab to deal with the "stress and anxiety" caused by turmoil with her Twitter followers, but that wasn't enough to get her off the social media site.
In a new interview, the 30-year-old country star admits that after being rehabilitated in August 2012 she considered quitting her social media accounts, but decided against it after learning how to deal with her haters – and RadarOnline.com has the details.
Article continues below advertisement
"I have considered staying off social media, but I've basically just learned to deal with the criticism," LeAnn tells The Daily Mail. "The people who do it hide behind a computer screen and don't even show themselves and it's interesting to have people judge you but have no idea about who you really are and what you're all about."
LeAnn, who has been avoiding communicating directly with her Twitter bullies, but sometimes posts obvious status updates slamming her haters, didn't want to miss out on communicating with her "real fans."
"I did stop tweeting for a while but then I was like: 'Screw this! I don't want to stop communicating with my real fans.' The block button's a great thing – if you talk crap to me, I'll just block you!"
"Supporting other step moms is not putting down bio moms," LeAnn ranted on Twitter recently. "Some people seriously need to grow up."
Do you think LeAnn Rimes has really learned how to deal with her Twitter haters? Sound off below.