She Can't Stop! LeAnn Rimes Continues To Rant About Brandi Glanville Feud On Twitter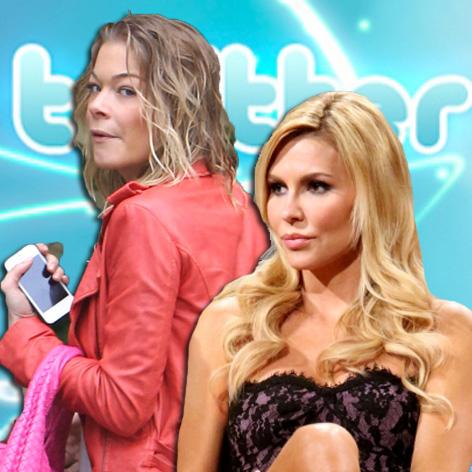 Article continues below advertisement
"It's hard sometimes," LeAnn tweeted to Heather.
"That is an understatement J It is very, very hard. I find I get more emotionally tangled inside when I respond to drama," she responded to LeAnn.
"I find the same but it's just as bad holding it in," LeAnn wrote.
After Heather and another Twitter friend Jessica Kramer suggested that LeAnn "get it out" by calling a friend and talking it out, as well as working out at the gym or praying to God, LeAnn responded:
"Gurl I do both every day."
In another conversation, a woman named Molly Schaar, who uses the Twitter handle @StepMomShoes, sent a message to both Brandi and LeAnn.
"You'd be wise to keep communication off Twitter!" she advised the two celebrities. "Your job is to co-parent – not tweet. #KidsSeeAllSomeday."
"You think?! That would be nice," LeAnn promptly and sarcastically responded to both Molly and Brandi.
LeAnn is suing a school teacher who was a Twitter critic of hers and as RadarOnline.com previously reported the singer had been urged by people close to her to stay off social media or at least cut back.
Do you think LeAnn Rimes is engaging in too much drama on social media? Sound off below.