Brandi Glanville Rips LeAnn Rimes In Dispute Over Kids: 'I'm So Sick Of Lies'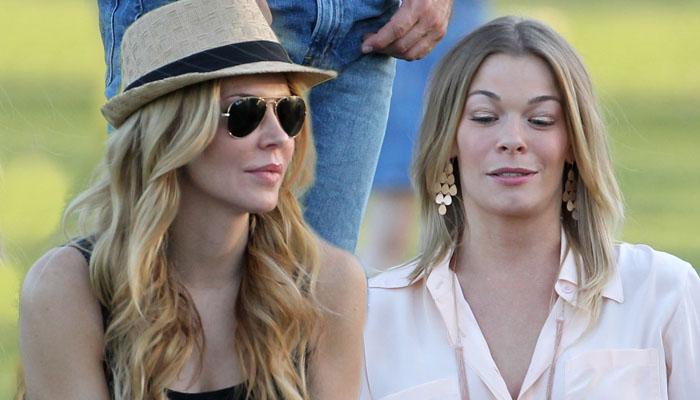 On the same day LeAnn Rimes promoted her new album by discussing her affair with Eddie Cibrian, Brandi Glanville ripped into the singer publicly as their dispute over her children turned ugly.
Telling LeAnn to mind her own business, and calling her a narcissist, Brandi insisted she's not at war with anyone, but at the same time didn't hold back in slamming Rimes' actions.
Brandi lashed out at LeAnn, saying she's "sick of the lies" and revealed details about the two-family set up, including the fact she is allowed to call her sons Jake and Mason at LeAnn's house only from 7 p.m. to 7:30 p.m.
Article continues below advertisement
It all added up to one of the most explosive exchanges yet in the ongoing war.
Brandi could not reach her two sons on Monday when they were staying with LeAnn and Eddie and she tweeted her ex husband begging for a phone call.
LeAnn responded on Twitter and clearly was not sympathetic to Brandi's concerns.
Talking about the incident where she couldn't reach her boys on the phone and LeAnn's response, Brandi tweeted late Wednesday: "Im so sick of BS lies I tweeted EC not his wife she should mind her business."
Brandi explained that when she couldn't reach her sons for an hour she reached out to Eddie by Twitter. LeAnn's responses clearly enraged her.
Brandi continued to go on the attack said, "I am NOT in a twitter war with ANYONE! No matter how hard people try to make it about them.
"Ive been doing my best to not engage, I have no war with anyone I just miss my babys."
But it didn't end there.
She publicly revealed that she's allowed to call her children only between 7 p.m. to 7:30 p.m. when they are with LeAnn and "when I cant reach them I freak, I always answer anytime dad calls."
Article continues below advertisement
Her frustration boiled over and she discussed the situation online.
"Have kids then have them taken away half the time& get f**king back 2 me when u cant even call & say goodnight…"
And when one person attacked Brandi, taking LeAnne's side, the author of the best-selling book Drinking & Tweeting & Other Brandi Blunders, let loose.
"You know nothing its the only thing this narcissist responds 2. Its sad," Brandi tweeted, again blasting LeAnn.
And the two-family situation clearly isn't working, because when one person urged Brandi to restrain herself so the kids won't see what's going on, Glanville said of LeAnn and Eddie: "The will have a lot more explaining to do than I do."