Exclusive
The Curse Of Brandi? Glanville Slams Nemesis Scheana Marie As She Prepares To Walk Down The Aisle: I Hope Her Husband Doesn't Cheat On Her!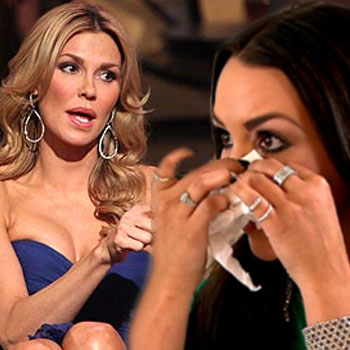 Article continues below advertisement
"How was I able to sit down with this person?" Glanville asks. "How could I look her in the eye? She knew he was married. She knew he had children. But she kept f*cking him anyway. Three reasons. First, I had already done it with my ex's new wife. My close friend had asked me to do it so that i could help her … Second, while I don't feel sorry for that silly f*cking cocktail waitress, I know my ex-husband f*cked her over too. She went through her own heartbreak, which she deserved, and for the rest of her life when someone goolges her name, she'll be identified as the girl who sleeps with married men, and John Mayer, and who sold all the tawdry details to the press. We'll never be friends …"
"Apparently she's getting married now," Glanville writes, "although that didn't stop her from flirting with my date all night long at a recent dinner party, on camera. I only hope that she never has to experience firsthand what I endured."
Are you Team Brandi or Team Scheana? Let us know in the comments!