Not Again! Brandi Glanville Accuses Ex-Eddie Mistress Scheana Marie Of Flirting With Her New Man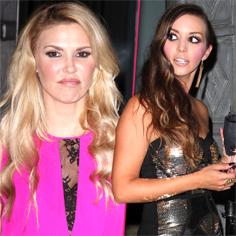 Despite trying to play nice, the 41-year-old blonde claims her ex-hubby's mistress Scheana Marie tried to steal her new man at Lisa Vanderpump's latest soiree.
Ranting on Twitter, Brandi claimed there's unaired footage from Monday's episode of The Real Housewives Of Beverly Hills, which features Scheana – who is engaged -- flirting with her date the entire night.
"Lisa didn't even tell me she'd be there. I asked not to shoot with her anymore, and she flirted with my date all night!" Brandi vented on Twitter.
Article continues below advertisement
(As fans may remember, Brandi previously confronted Scheana and accused her of sleeping with her ex-husband Eddie Cibrian.)
"I don't think I'm ever going to escape this woman," Glanville vented during the episode.
Even though she tried to congratulate Cibrian's mistress on her recent engagement, Scheana said: "You're not happy for me, but it's okay."
"Why the f-- does she care if I'm happy for her or not?" Glanville told the cameras.
When Twitter fans asked why she seemed so neutral during the episode, Brandi corrected them.
"Trust me I lost my sh-t, but they didn't show it because it would have made Lisa look bad," she tweeted.
Glanville then went on an f-bomb filled rant, blaming Lisa for the awkward encounter.
"Are you f—king serious, Lisa? You kept her away from me at SUR but then surprised me with her at Ken's birthday! I'm calling bullsh-t on you!" Brandi ranted about her former BFF.
Do you think Lisa should have told Brandi that Scheana would be at the party?