Scheana Marie Accuses Brandi Glanville Of Lying: I Didn't Flirt With Your Date – We Only Exchanged Two Words!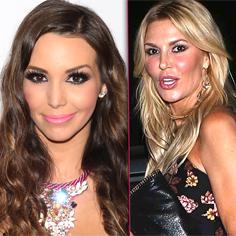 Article continues below advertisement
As 90210 fans know, the two haven't exactly been on the best terms. In late 2009, Scheana dropped a bombshell, revealing that LeAnn Rimes wasn't Eddie Cibrian's only mistress; she too had been in a relationship with Glanville's ex-husband!
The 17 Highest Paid Media Figures On TV
As expected, Brandi was upset at Lisa for inviting Scheana to the party – without giving her any notice.
"Trust me I lost my sh-t, but they didn't show it because it would have made Lisa look bad," Glanville added.
Do you think Lisa invited Scheana to cause drama or has Brandi overblown the encounter? Tell us below!