Bloodthirsty Brandi Glanville Wants To 'MURDER' Man She Says Cheated On Her Friend With Teen Nanny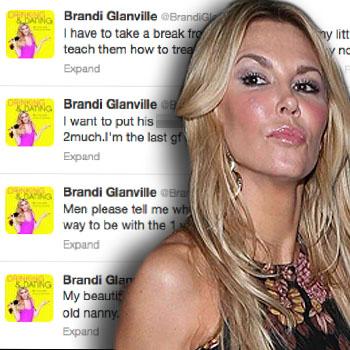 Article continues below advertisement
"I want to MURDER him! F*cking men!!" the mercurial Bravo beauty tweeted of her friend's husband, later asking, "Men please tell me why if you have a beautiful happy family u just can't find a way to be with the 1 woman that created that family with u??
"I want to put his f***ing name on Twitter but I love his wife &family 2much. I'm the last gf she told cuz she knew I wud lose it! #murder."
Challenged by a follower who reminded her it takes two to Tango -- and that the nanny should be held accountable for playing her part in the adultery -- Brandi responded, "Agree but at 19 with no kids I mainly blame him. She cared for those kids also so its even more disgusting!"
The fun had to end when Brandi said she had to tend to her sons Mason and Jake, and properly "teach them how to treat women."
Brandi has been outspoken about the humiliation she felt after Cibrian's affair with Rimes went public, and has had a relationship with the singer -- who spends considerable time with her sons as Cibrian's now-wife -- that's ranged from uncomfortable to hatred in the five years since the affair.
In another memorable instance showing her rage at adultery, Brandi verbally incinerated Scheana Marie, co-star Lisa Vanderpump's SUR waitress who also admitted to hooking up with Eddie in the time he and Brandi were married.
In a televised pow-wow on Real Housewives, Brandi called her ex's one-time mistress a "starf***er," and taunted the food server, telling her, "Look at where you are in your life and I'm in such a better place -- I win -- you know what I mean.