Exclusive
Eddie Cibrian Accused Of Cheating On Brandi Glanville & LeAnn Rimes With The SAME Waitress!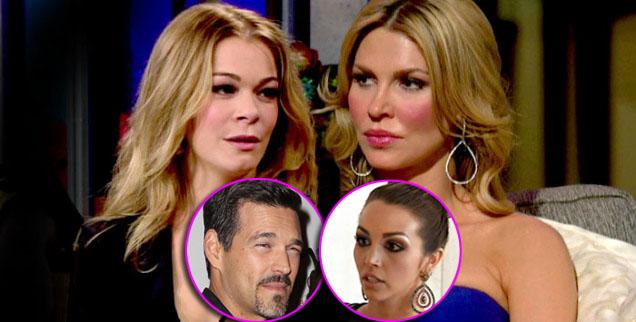 The stunning waitress who had an affair with Eddie Cibrian while he was married to Brandi Glanville has revealed that the hunky actor attempted to rekindle their romance soon after he began dating his current wife, LeAnn Rimes!
In an exclusive interview with RadarOnline.com, Scheana Marie, 27, claims that the hunky star contacted her to met up for drinks soon after he split with Glanville in 2009.
Eddie was already dating LeAnn at the time, but the Vanderpump Rules star says she had no idea he was already seeing someone else believing he was single and separated.
Article continues below advertisement
"As months go by, Eddie gets separated. He then contacts me to go out for drinks," Scheana tells Radar.
"I believed he was separated, so I was happy to go out with him again. But shortly into trying to hang out with him I find out about LeAnn, and I felt like such an idiot!"
Scheana recalls the moment she first met Eddie, 39, and says she was instantly smitten. But then, things quickly turned sour after her mom discovered he was a married man!
"Originally, I met him 7 years ago. When a really good-looking guy with big dimples wants to take you out for drinks your first question isn't 'are you married because you don't have a ring on your finger?'" she says.
"We hung out, it was quite casual and about six months in my mom saw an article and was like, 'that Eddie guy you are dating, is his last name Cibrian and is he on Third Watch?' I was like, 'Yeah, what do you hear?' And she told me that he and his wife are expecting their second child!"
Article continues below advertisement
A distraught Scheana says she got in touch with Eddie to find out the truth, and he admitted his wrong-doing in a text message.
"He was like, 'I'm so sorry I lied to you.' He then switched the conversation and said, 'by the way, are you still doing the acting thing? I have a project I'm funding, and there's a role for you that would be great.'"
Needless to say, Scheana and Eddie haven't spoken for a few years. "I have no interest in talking to him again," she says.
Instead, Scheana is now appearing on Vanderpump Rules, a spin-off of Bravo's hit reality TV show The Real Housewives of Beverly Hills.
In Monday's premiere, Scheana came face-to-face with Brandi.
During the fiery scene, Glanville labeled Scheana a "hooker" and a "starf*cker," which the ambitious beauty feels could harm her reputation.
"I'm sure she's had sex with as many celebrities as I have, which actually isn't that many. For her to say that about me is pot calling the kettle black," Scheana says.
Article continues below advertisement
The two have spoken since their confrontation though, and Scheana hopes one day they can be friends.
"I've seen Brandi a few times since we had our talk. We are very cordial with each other, and it's nice not to have to run out the room when we see each other," she confesses.
"I'd like to be friends with her one day. We run in the same circles, so I don't think it would be a crazy thing if it happened, but it's still too soon."
Scheana says she now regrets her actions and understands Brandi's fury with her.
"Brandi was angry with me because I didn't think about her feelings when I was interviewed by Access Hollywood about the affair," Scheana says.
"Honestly, I didn't. And that was a big mistake I made. All I thought was that I wanted to get back at Eddie because he broke my heart too.
"If I could go back I would take back every interview I ever did about him. It was a very selfish thing I did."
Vanderpump Rules airs Monday, Jan 7th 10/9c.