Brandi Glanville Confronts 'Starf*cker' Waitress Who Had Affair With Eddie Cibrian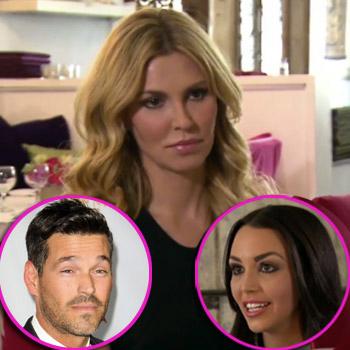 Tension was on the menu at Lisa Vanderpump's restaurant SUR on Monday's The Real Housewives of Beverly Hills, as Brandi Glanville came face-to-face with Scheana Marie, the 27-year-old waitress Eddie Cibrian cheated on her with during their ill-fated marriage.
The sit-down was arranged by Vanderpump in hopes of putting the lingering situation to rest, notable for an uncomfortable incident last season where the two crossed paths.
Article continues below advertisement
A "shaking" and contrite Scheana began by telling Brandi, 40, "I just have so much I need to get off my chest with you," but the mother of Eddie's two sons was not in the mood for an emotional powwow with a woman she felt destroyed her home life.
"Don't cry, really -- I lost my family," Brandi told Scheana. "I lost everything that I had. So if anyone's going to cry here it's not going to be you."
Scheana, claiming Eddie told her he wasn't married, poured more salt in the wounds in telling Brandi that her affair with the dashing actor was more than just hook-ups, as he'd bought her jewelry, helped her move into her apartment (during which time he met Scheana's mother) and even brought her along on his vacations -- an admission that caused Brandi to explode.
Watch the video on RadarOnline.com
"I know that you were f*cking my husband, I get that!" Brandi told Scheana, who alsocalled the waitress a "starf*cker" and a "hooker" in a pre-taped clip prior to their tense meeting.
At one point, Brandi got awkwardly personal, telling the food server, "Look at where you are in your life and I'm in such a better place -- I win -- You know what I mean."
Eventually, Brandi -- who pointed out to Scheana that Cibrian cheated with other women as well during their marriage -- said she accepted the waitress' apology and wished her luck in the future; Brandi even gently patted her on the back as she left the restaurant.
Article continues below advertisement
In one dig at her actor ex, Brandi lamented how Cibrian -- who also cheated with LeAnn Rimes while he was married -- repeatedly lied to her face, while adding, but "the kid can't act."
Later, speaking with Bravo's Andy Cohen on Watch What Happens Live, the classy Lisa said she felt the emotional episode showed viewers there's more to Brandi than catfights and Twitter wars.
"I feel that Brandi has this other side, and we haven't really seen that part of her ," Lisa said. "I think tonight, we really saw the whole picture of Brandi, of how much she loves her children…she was dignified."
The Real Housewives of Beverly Hills airs on Bravo Mondays at 9/8c.