Brandi Glanville Gives Away Her Eddie Cibrian Wedding Gown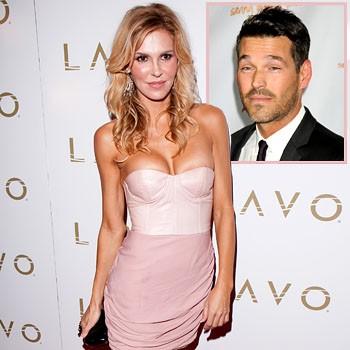 In the latest bizarre salvo in Brandi Glanville's battle with her ex-husband Eddie Cibrian and his new wife LeAnn Rimes, The Real Housewives of Beverly Hills star has given away her wedding gown from the ill-fated marriage!
The blonde beauty says she was making a fresh start and cleaning out her closet, ditching the strapless white symbol of the failed marriage. Glanville, whose former spouse Cibrian left her for country star Rimes, tweetedon Saturday, "I donated my wedding gown to a soon to be army wife& I still havent heard about who received it! Well I hope it make someone very happy"
Article continues below advertisement
As RadarOnline.com has reported, Glanville's marriage to Cibrian didn't make HER happy at all!
And Glanville has been involved in a Twitter war for months with Rimes, whom he married in 2011.
Much of the conflict has centered around Glanville and Cibrian's sons Mason, 9, and Jake, 5, who spend time in both households. Glanville has been a fierce mama bear regarding issues involving the boys. And after dropping the bomb to her Twitter followers about her wedding dress giveaway, Glanville showed how much she relished her time with them, tweeting, "Attempting to clean the old toys out of our playroom and all of a sudden the boys love toys they haven't touched in ages!"
MORE ON:
hollywood happenings
But for Brandi, there was one item in her closet very easy to throw out.