'I Just Had A Friend's Back': Brandi Glanville Reveals Yolanda Foster Ordered Her To Shut Up About Joanna Krupa-Mohamed Hadid Cheating Scandal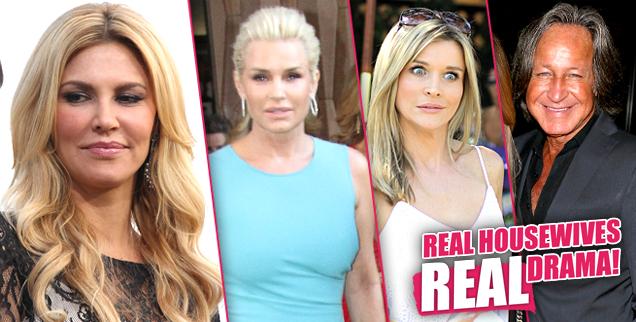 In what she says will be her last time commenting on the topic, Brandi Glanville sheds light on the backstory behind her feud with Joanna Krupa, which culminated in her jaw-dropping revelation that she heard the Polish model's "p***y smelled" from an ex-lover.
Glanville, in a new Bravo blog, said she's not personally acquainted with any of Krupa's Real Housewives Of Miami castmates (except Lea Black). While she doesn't mention Krupa specifically by name in the piece, it comes after her Watch What Happens Live revelation that Krupa was allegedly one in the parade of women who slept with Yolanda Foster's ex-husband Mohamed Hadid while they were married.
Article continues below advertisement
"Given my own personal past, I am extremely sensitive to all things infidelity, and will always stand tall and have a friend's back," Glanville said, later clarifying that she left ex Eddie Cibrian "because of his excessive cheating."
She added more backstory, recalling that she and Foster were at a Bravo party when Krupa "started to walk up to me and when she saw Yolanda, turned, and ran the other way," something she said both she and Foster considered "very telling."
Glanville said when questioned about the Krupa awkwardness by a Miami cast member, she said, "I don't want to be friends with a woman that sleeps with married men" and motioned towards Yolanda.
She said later in the evening, when she heard "Yolanda's ex joke with Lisa Vanderpump and I about the odor situation, she assumed it all to be true," adding she doesn't "expect Lisa to back me up on this because of our current rift and her closeness with Yo's ex -- but it is the truth."
(Hadid, via Twitter, denied ever making such a remark to Glanville -- who he called "a scum and a foul mouth" -- labeling her comments "pure lies.")
Glanville acknowledged that the situation is not her "business to be involved with," but she was "just trying to be a loyal friend."
The Hottest Stars From Reality TV
"Anyhow, Yolanda has asked me as of now to no longer comment on this subject and I will respect her wishes because she is trying to stay focused on getting her health back on track. So as of now if you ask me anything about this subject as (yes even you Andy Cohen) I will decline to answer."