Exclusive
Joanna Krupa Is An 'Uneducated Liar,' Says Adriana De Moura! 'RHOM' Star Declares Brandi Glanville Is Telling The Truth About Mohamed Hadid Affair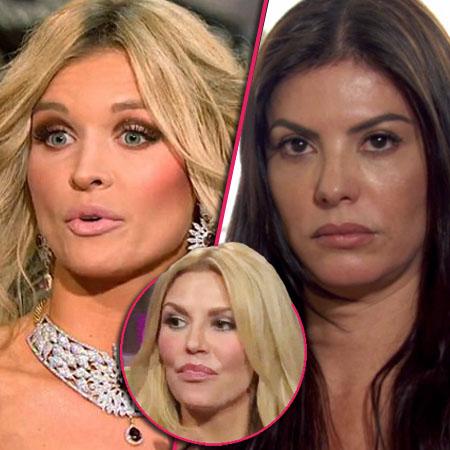 Brandi Glanville's foul-mouthed claims that Joanna Krupa had a fling with Yolanda Foster's husband have rocked the Housewives world, and now Adriana De Moura, who originally let the cat out of the bag, is telling RadarOnline.com exclusively that the story is absolutely true and that her Real Housewives of Miami co-star is "a liar" and that more facts will come out to prove that the story is true.
The drama unfolded when Adriana dropped the bombshell on the RHOM reunion show, revealing that she heard from Brandi that Joanna was Mohamed Hadid mistress while he was married to the Real Housewives of Beverly Hills star.
Article continues below advertisement
A massive fight has erupted between all of the reality stars, with Mohamad calling Brandi "scum" and and Joanna slamming the claim as fiction, but Adriana says it is a true fact.
"What is with this girl? She is so full of herself and I'm so sick of her hostility to Lisa and everyone else and so now the gloves are off," Adriana told Radar.
"Brandi was 100 per cent telling the truth and I repeated verbatim what she told me. All of the facts and revelations will be showed on the RHOM reunion next week, I'm telling you."
While Joanna and Adriana have been enemies for years, they had called a truce on their fights until recently, but now they're no longer friends.
"She is not my type of girl," Adriana explains. "She is an uneducated liar. She's too harsh. Just because she is a beauty queen she thinks she's entitled to act ugly. I wanted to give her a taste of her own medicine."
As for the crude description Brandi gave about Joanna's smelly "p***y," Adriana laughed and said "I'm glad she didn't say that about me!"
Article continues below advertisement
She ripped her reality co-star, saying that Joanna "hits below the belt all the time. She tries to knock other people down but I'm standing up to her now. Yolanda has never denied this and she is a lovely, classy woman. When you get cheated on it leaves a scar."
Adriana says that she is looking forward to the next RHOM reunion episode.
"There is no way that Joanna is going to be able to deny what happened. None."
The Real Housewives of Miami Reunion part 2 airs tonight at 9p on Bravo