Joanna Krupa Relieved She Wasn't Invited To Castmate Adriana De Moura's Train Wreck Wedding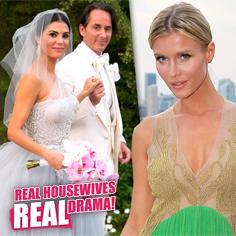 Article continues below advertisement
"So NO, I didn't wait 1 1/2 hours for the ceremony," Krupa wrote. "NO, I didn't wait 2 hours to start eating."
Watch the video on RadarOnline.com
Krupa, who's been battling DeMoura on the show, said she was glad she "didn't have to stay and pretend I was happy after hours of delay for...what again?"
Krupa confirmed she "wasn't invited," clarifying that she's never been so happy to "say so many NOs."
As we previously reported, De Moura and Frederic Marq tied the knot this past May 17.