31 Extreme Hollywood Bodies -- Stars Who Are Sexy, Skinny & Scary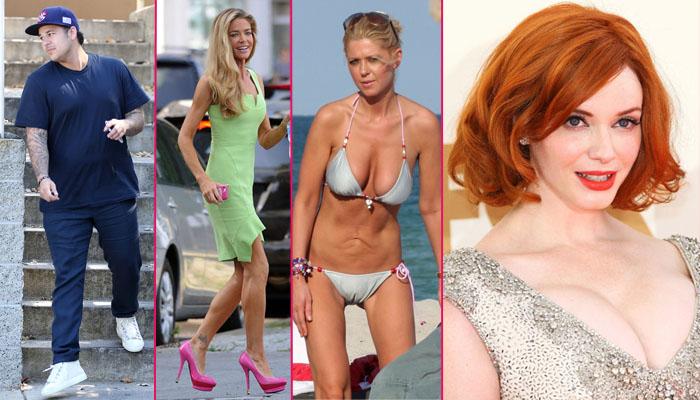 From Coco to Kim to Pamela To Farrah, Hollywood starlets come in all shapes & sizes, and we've got a look at them all right here on RadarOnline.com.
Article continues below advertisement
Pam Anderson: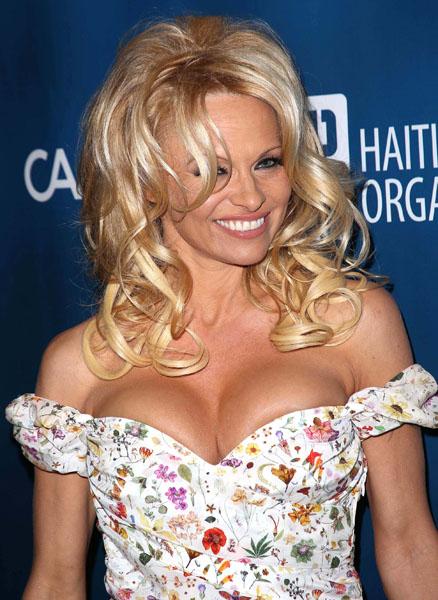 As RadarOnline.com recently reported, the iconic blonde bombshell slipped into some sexy red swimwear that barely covered her assets for Vogue Brazil's June issue, rocking a crop top that flaunted major underboob and a thong-style bikini bottom, along with a totally sheer and nipple-exposing top. The Baywatch babe, famous for her big breasts, has had various sizes thanks to plastic surgery and has been as big as 36DD. She's been on the cover of Playboy a record 11 times, but the now 45-year-old sex symbol recently said it might be time to tone her look down a bit!
Christina Hendricks: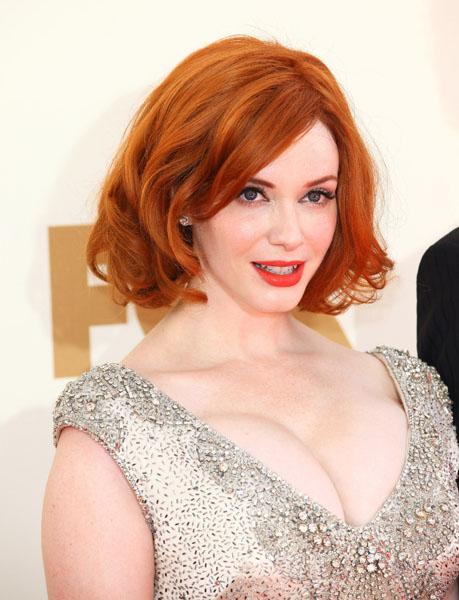 The Mad Men star has become an inspiration to curvy gals everywhere. "It's such a compliment, because of all those times I had agents who were like, 'You have to lose some weight,'" Christina, 38, has said of those who admire her enormous assets. Fans are always googling her cup size! (It's 38 DD).
Article continues below advertisement
Katie Price: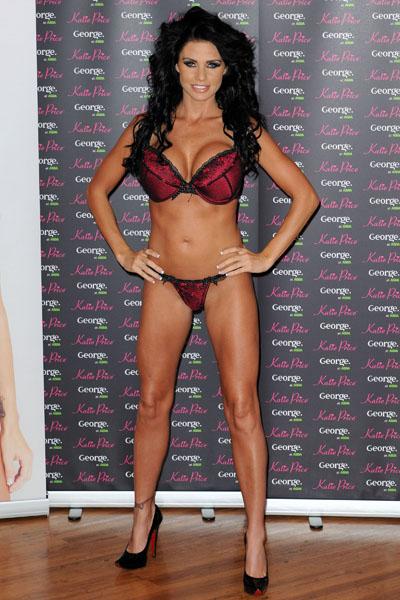 The British reality show star, 35, became famous for her plastic surgery to create a body with preposterous proportions, and she recently admitted to going overboard with it. When asked by Heat magazine how many boob jobs she's had, she said, "I've lost count. About five or six." Earlier this year, an insider told Heat that Katie has been working out like mad "and she has decided she wants a stripper's body."
Article continues below advertisement
Heidi Montag: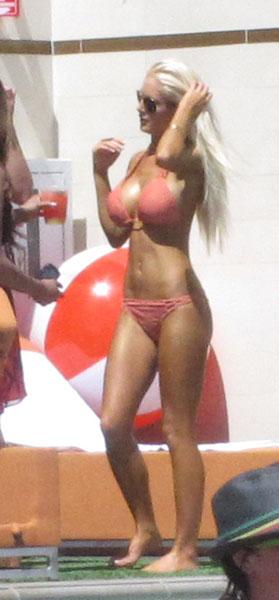 The Hills star shocked the world in 2010 when she was featured on the cover of People magazine after having had ten plastic surgery procedures, including breast implants and liposuction on her stomach and thighs—at just age 23. "Sex appeal is really important," Heidi, now 26, told the magazine. "I just love boobs. They make me feel more womanly."
Article continues below advertisement
Coco Austin: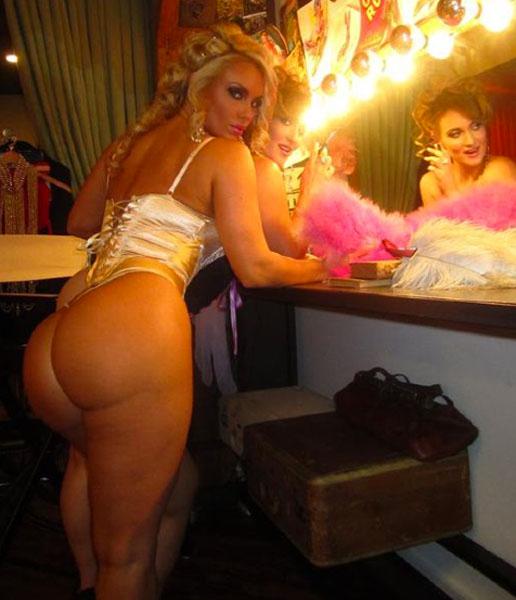 Ice-T's wife and reality show star Coco, 34, has bragged about her gravity-defying figure. "Flexing the top of my booty muscle.. see dedication pays off. #legs #muscle = Power," she Tweeted fans, sharing a photo of herself in an itsy bitsy bikini. And as RadarOnline.com has reported, she recently stripped down to her racy lingerie and provocatively posed for a photo shoot backstage at Peepshow in Las Vegas.
Article continues below advertisement
Mariah Carey: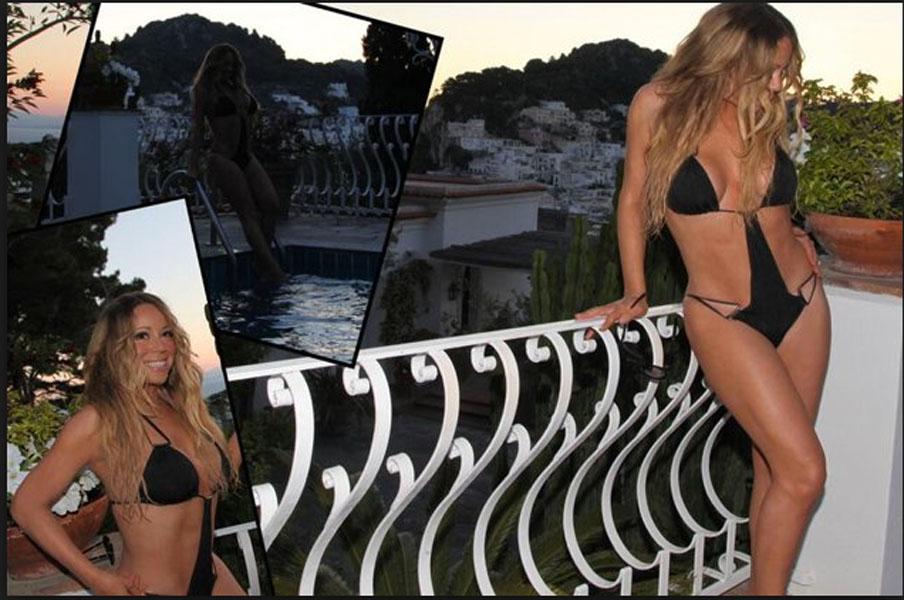 The singer, now 43, recently flaunted her body in a black cutout bathing suit. The former American Idol judge, who was doing a music video with Miguel in Italy, took to Twitter to post some sexy bikini photos of herself. Mariah, the mother of twins, has told Shape magazine, "Today my workout routine is more about getting and staying toned. And for me, that means either taking hour-long walks a few times a week or jumping in the pool three or four days a week to do 45 minutes of aquatic exercises."
Article continues below advertisement
Kim Kardashian: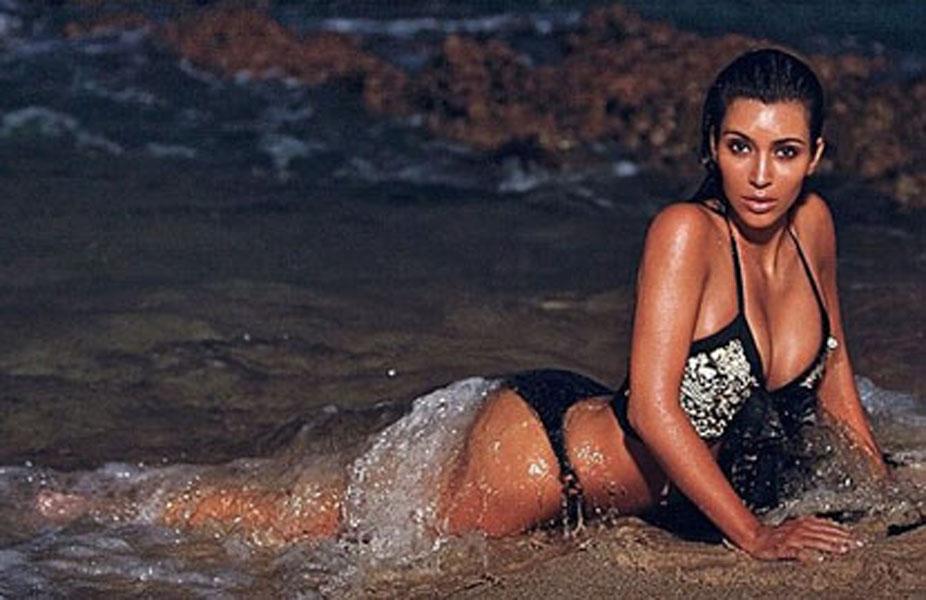 Pre-pregnancy, the Keeping Up with the Kardashians beauty, 32, was world famous for her big butt and breasts, which created a classic hourglass shape. "I'm proud of my booty and it's all mine," she has said. And Kim also was a sexy pregnant woman, blowing up like a balloon while expecting daughter North! During the family's vacation in Greece, shown on their E! reality show, momager Kris Jenner marveled about Kim's extreme pregnancy breasts: "They're like two watermelons."
Article continues below advertisement
Farrah Abraham: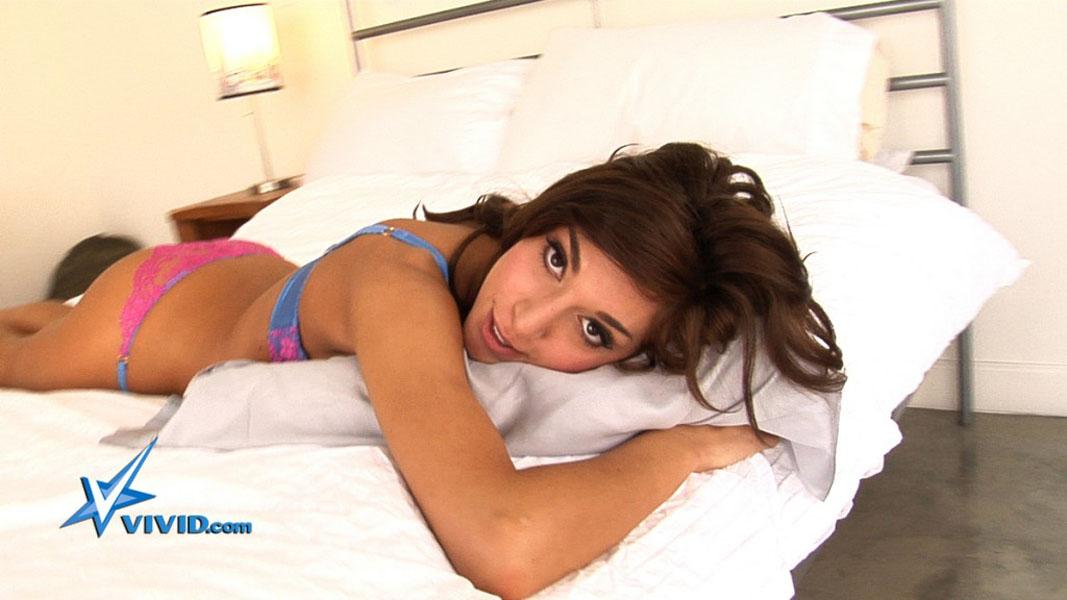 Teen Mom star Farrah Abraham recently showed off everything she has in the porn movie Back Door Teen Mom -- and has admitted her sexy look is all due to plastic surgery. Farrah told In Touch magazine she underwent a second breast augmentation surgery after her 22nd birthday, upgrading her cup size from a C to a D and replacing her saline implants with silicone ones. "I want to look my best. And I'm looking amazing," Farrah boasted
Article continues below advertisement
Sofia Vergara: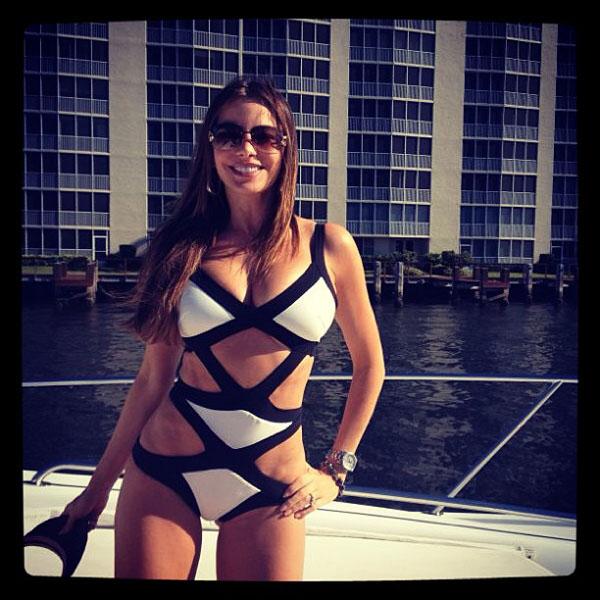 The Modern Family beauty hasn't been shy about tweeting sexy photos of herself. As RadarOnline.com has reported, Sofia gave her fans a post-Christmas gift of her famous curves, sharing a stripped down swimsuit pic on WhoSay. "Holyday!" the 41-year-old siren captioned the snap of herself in a black and white bondage-style cutout bathing suit, with her enormous breasts spilling out of the top and bottom.
Article continues below advertisement
Courtney Stodden: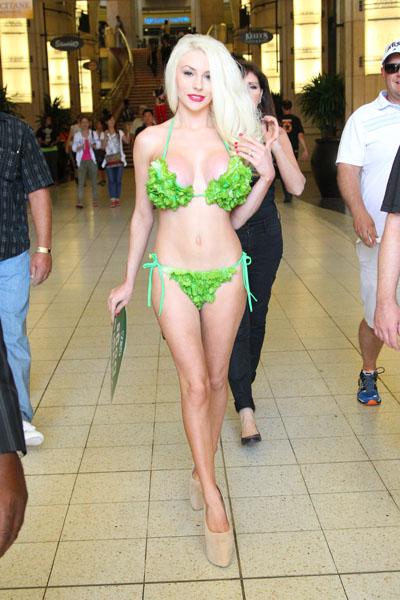 Courtney Stodden: Courtney-- best known for marrying actor Doug Hutchison when she was 16 and he was 51, and starring with him on VH1's Couples Therapy--had a breast augmentation in June that took her from a C-cup to eye popping double Ds! The starlet, now 18, even posted a video online showing off her new augmented body. And she's showed off in other ways. As RadarOnline.com previously reported, Courtney recently stripped down to a bra and panty set, which she matched with stripper-style heels, and took her dog on a walk around her neighborhood!
Article continues below advertisement
Selma Blair: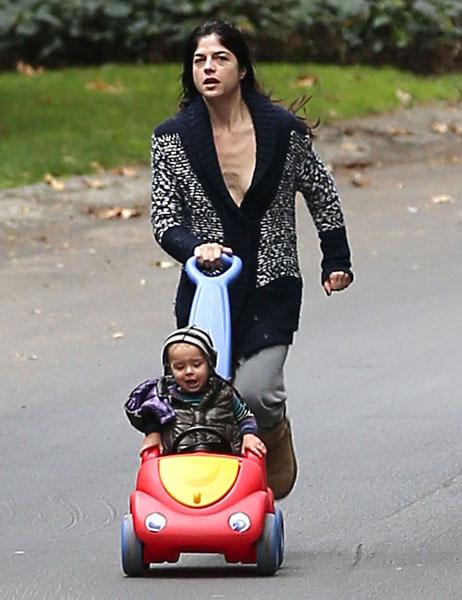 The actress was photographed in December with her cardigan blowing back to reveal a bony chest while pushing her son, Arthur, in a toy car. She split from fashion designer baby daddy Jason Bleick in September. Selma, 41, blasted paps on Twitter for taking the unflattering pictures, but has not explained what looks like extreme weight loss.
Article continues below advertisement
Keira Knightley: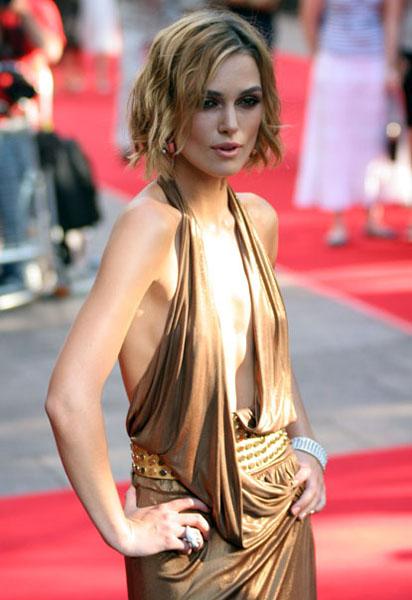 The beautiful but frail looking Atonement star has always faced criticism for being too skinny. When Allure magazine asked her about anorexia rumors last year, Keira admitted the speculation hit her "pretty hard." She added, "I knew I wasn't anorexic, but maybe my body is somehow not right." However, the actress, 28, has no hesitation showing off her bony form in revealing outfits on the red carpet and in photo shoots.
Article continues below advertisement
Victoria Beckham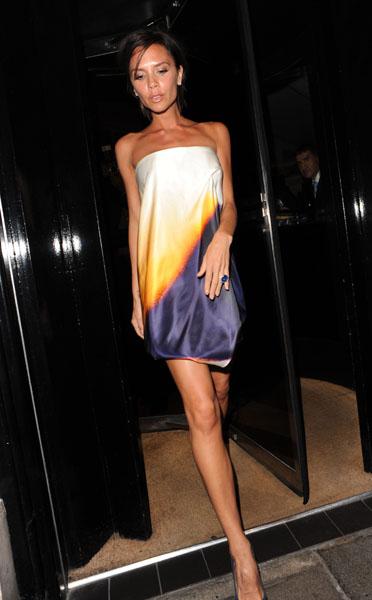 The Spice Girl and fashion designer has long inspired anorexia speculation with her lollipop body. In her book Learning to Fly, Victoria admitted to past eating disorder issues. The 39-year-old mom of four with soccer star husband David Beckham recently told Harper's Bazaar that she eats fruit for breakfast and sushi and green juice for lunch, and shares dinner out at a restaurant with her family.
Article continues below advertisement
LeAnn Rimes: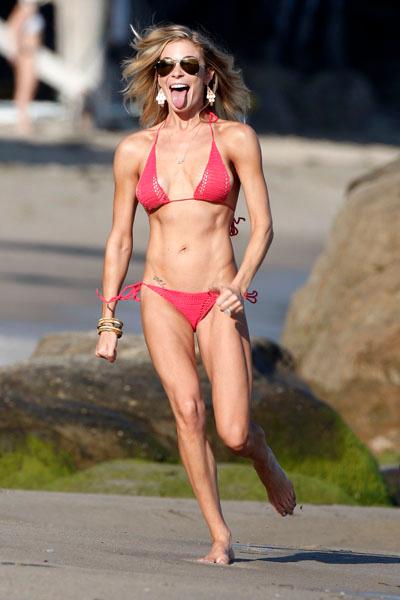 Did the country singer's many battles with Brandi Glanville cause her to lose weight? Back in 2011, LeAnn was spotted looking like a toothpick in a bikini, and although she put on a few pounds, she's still a skinny star. LeAnn, 30, explained to Wonderland magazine this year she had "never gone to an extreme with working out or my eating. I never tried to lose weight, and I never tried to gain it. It depends on how stressed I am."
Article continues below advertisement
Rachel Zoe: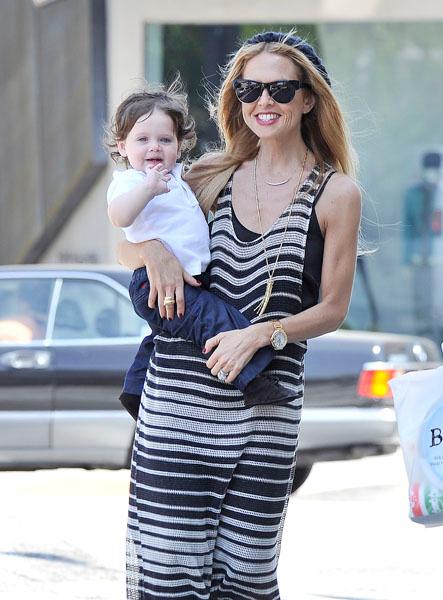 The Rachel Zoe Project star has long been criticized for her waiflike form, but the famed fashion stylist has claimed she's always been skinny and just can't gain weight. "Truthfully, I've never seen myself as being too thin," she said. Rachel shot down rumors of an eating disorder in January 2010, calling them "silly." The 41-year-old reality star appeared to instantly lose the baby weight from her son, Skylar, born in 2011, and she's now expecting another child with husband Rodger Berman.
Article continues below advertisement
Kate Bosworth: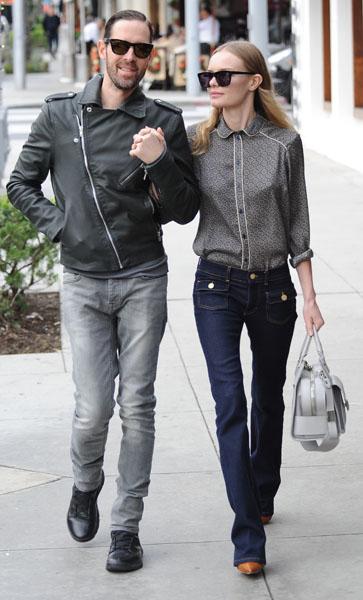 Kate Bosworth: Kate has long been the Hollywood poster child for waifishness, and it doesn't look like she's put on weight lately. The actress, 30, has just been wearing looser clothes this year as she travels with her film director fiancé Michael Polish. Kate once admitted to Vogue magazine that "whenever anything happens that's very painful or stressful" in her life, she has lost weight.
Article continues below advertisement
Denise Richards: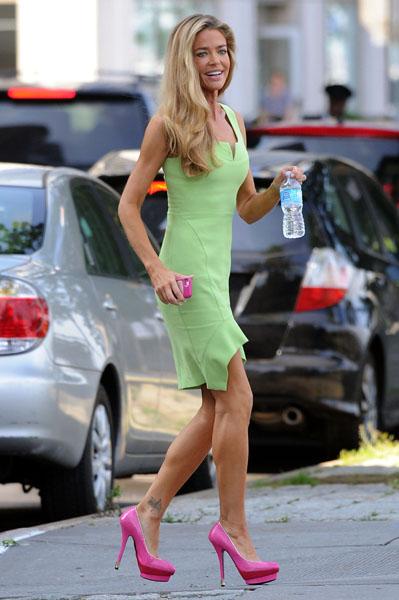 Photos of Charlie Sheen's ex-wife earlier this year showed her shockingly skinny arms and bony neck and clavicle, as RadarOnline.com has reported. When people commented on the dramatic weight loss apparent as the actress wore a tank top, the next time she was out, Denise covered up in a baggy sweatshirt. Denise, 42, has been juggling a lot as she raises her own two daughters by Charlie AND his twins by troubled ex-wife, Brooke Mueller.
Article continues below advertisement
Lara Flynn Boyle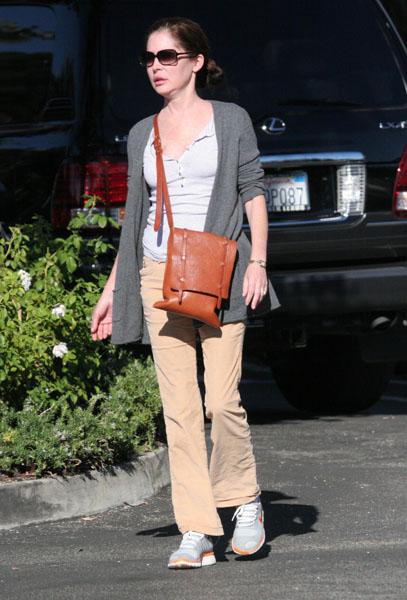 As RadarOnline.com has reported, photographers captured the reclusive former Twin Peaks star on a park outing and Lara appeared to have stick-thin legs while also sporting trout pout lips. But then, Lara, now 43, has always been tiny. When asked about her weight way back in 2005, Lara snapped, "I don't want to talk about that."
Article continues below advertisement
Zayn Malik: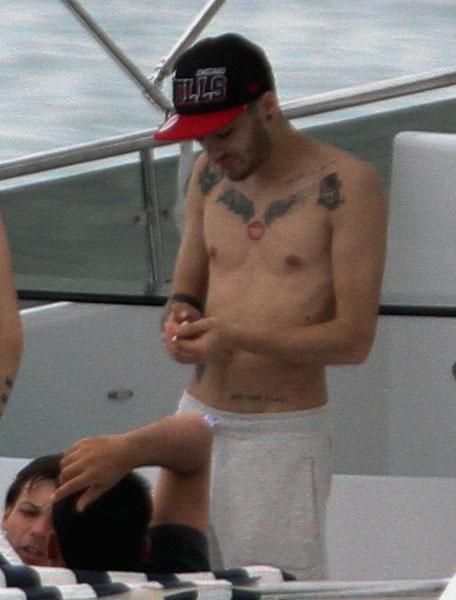 The One Direction star stirred concern when he shot a music video with his bandmates in Miami on June 13, 2013 and looked incredibly gaunt. "He's always been the slimmest of the band members, naturally," a source told Us Weekly of the 20-year-old. "But I think he's running around a lot, getting stressed, and not putting health first."
Article continues below advertisement
Boy George: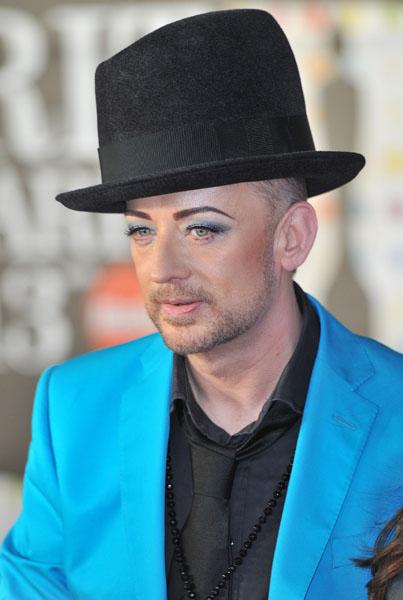 Earlier this year, the former Culture Club frontman, 52, stunned onlookers when he arrived on the red carpet at the Whatsonstage.com awards in London and showed off massive weight loss. He wrote on Twitter: "Portion control. 5 hour gaps between meals. No bread, sugar!" But is the change too dramatic for the singer who has been much heftier? He admitted in a Tweet that "everyone thinks I'm a bit mental" about exercise these days.
Article continues below advertisement
Duchess of Alba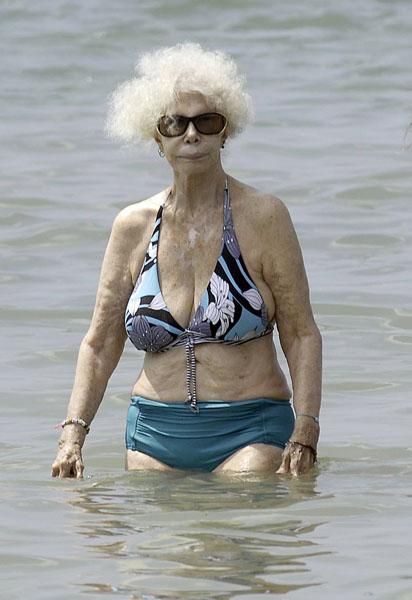 Too old to be this bold? The 87-year-old Duchess of Alba, Cayetana Fitz James, tried in vain to rock a floral bikini on the beach in Spain last year. The famous cougar let it all hang out with her much younger husband Alfonzo Diez.
Article continues below advertisement
Rod Stewart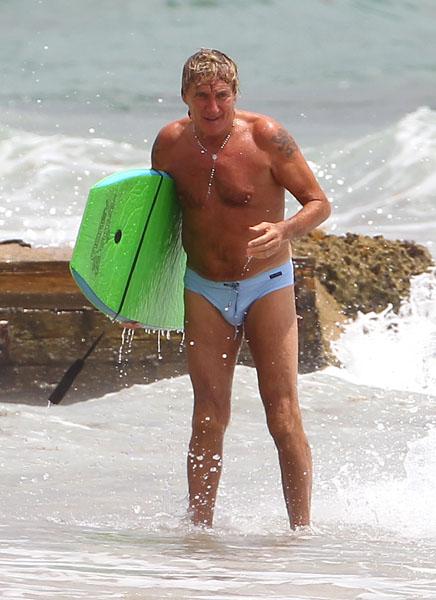 Do Ya Think I'm Sexy? Not so much! The singer has let himself go—but inexplicably puts his aging body in a speedo! Photographers caught Rod leaving nothing to the imagination in Miami Beach in 2012 with wife Penny Lancaster. How did Rod lose his once taut body? The 68-year-old rocker recently admitted he abused steroids in the 1980s in the hope of soothing his strained vocal chords before gigs. He claimed, "Steroids make you fat and bloated."
Article continues below advertisement
Bruce Jenner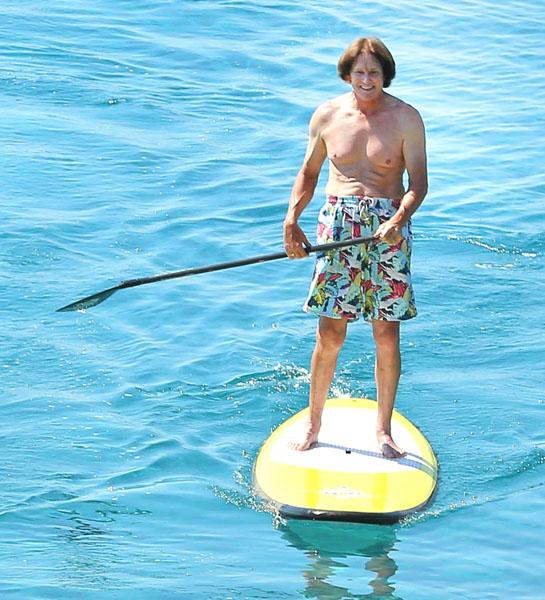 The Keeping Up with the Kardashian dad and former Olympian shocked onlookers when he paddle boarded in the Aegean Sea during the family vacation to Greece on April 29, 2013, showing a scrawny chest instead of a six-pack. The athlete proved that age and injuries can impact anyone's body. Now 63, Jenner admitted a few years ago that a bad knee has slowed him down. But he's still staying active.
Article continues below advertisement
Tara Reid: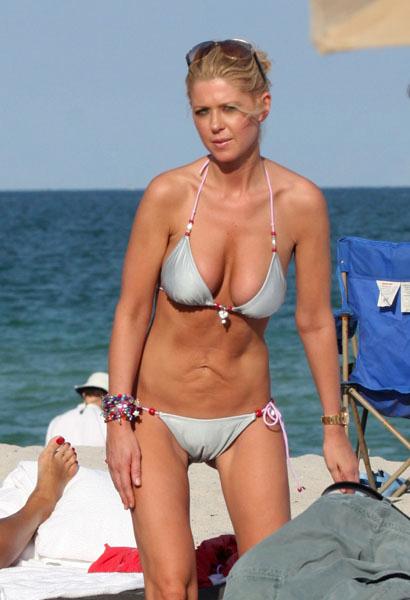 The former American Pie beauty, 37, famously told US Weekly about her botched breast augmentation and stomach liposucstion in 2004 that took a huge toll on her body. "I got lipo because even though I was skinny, I wanted, I'm not going to lie - a six-pack. I had body contouring, but it all went wrong. My stomach became the most ripply, bulgy thing," she shuddered. However, after having surgery to correct the botched procedures, the Sharknado star now has a smoother, flatter stomach, as RadarOnline.com has reported.
Article continues below advertisement
Rob Kardashian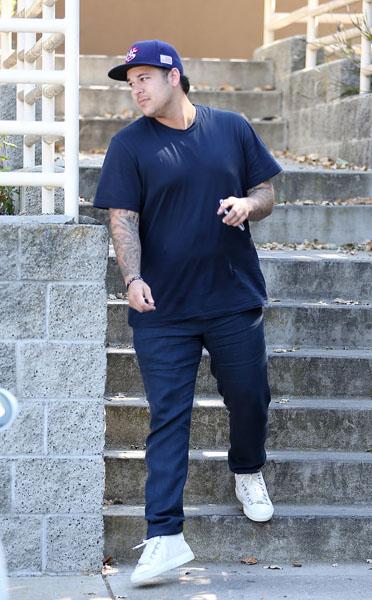 The reality TV brother packed on the pounds after splitting from girlfriend Rita Ora in December 2012. He admitted on Kourtney & Kim Take Miami that he has gained 40 pounds. And during this season's Keeping Up with the Kardashians, Rob, 26, was shown binge eating pizza, Chinese food, and hamburgers. Rob refused to go on the family vacation to Greece because he was so depressed about his body.
Article continues below advertisement
Ivana Trump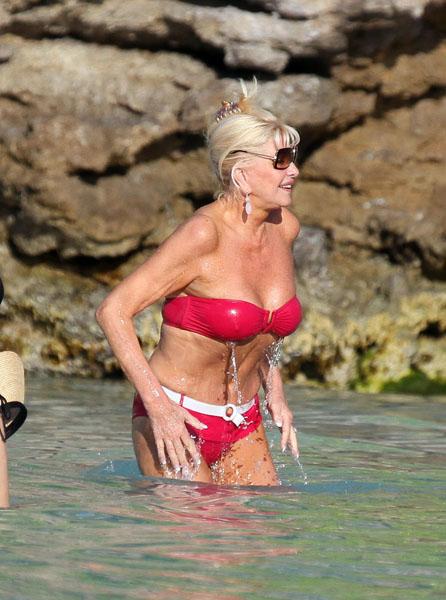 The Donald's former wife lets it all hang out on the beach, and that might not be a good thing when there are paparazzi lurking. Still, Ivana, 64, couldn't be happier with her life and she usually has a boy toy with her! "I feel young at heart," she told Harper's Bazaar a few years ago.
Article continues below advertisement
Steven Tyler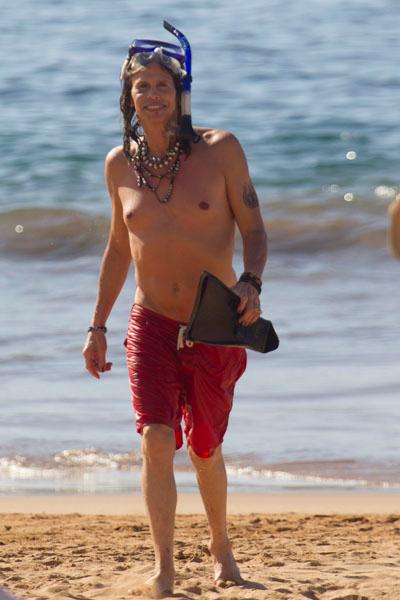 The Aerosmith rocker has been a chick magnet his whole life, but look at him now! Droopy man boobs make the former American Idol judge a scary sight on the beach, as he appeared in Maui last year in a pair of camouflage speedos. But Tyler, 65, has said he follows a restrictive diet to stay rock star thin: "For God's sake, I still want to be able to fit into those pants I wore on the last tour. I just live by the motto that nothing tastes as good as being thin feels."
Article continues below advertisement
Janice Dickinson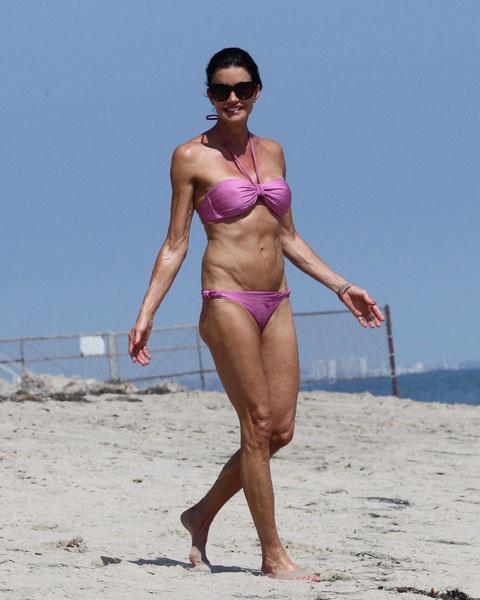 The former supermodel, 58, has said "there's no such thing as too much" plastic surgery. But her beach body has shown there's no way to stave off Father Time forever, as she displays wrinkly knees, thighs, and tummy.
Article continues below advertisement
Simon Cowell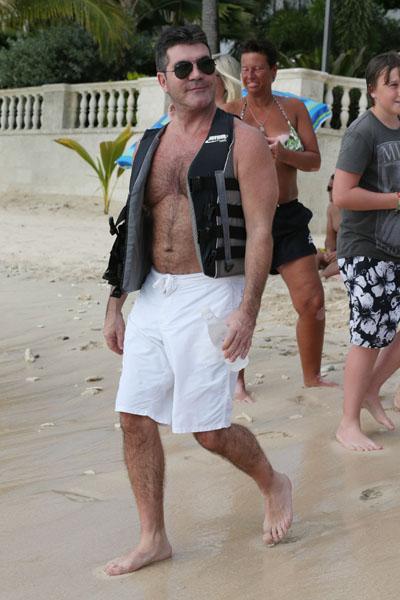 We don't mean to be rude, but—when the soon-to-be baby daddy goes shirtless, he shows off an alarmingly hairy celebrity chest and man boobs! But Simon, 53, now has a new slimmer shape, which his ex-girlfriend Sinitta claimed is her doing. The music mogul, who has battled weight trouble in the past, is reported to have lost 14 pounds after Sinattta encouraged him to follow a diet and exercise plan.
Article continues below advertisement
Patricia Krentcil a.k.a. Tan Mom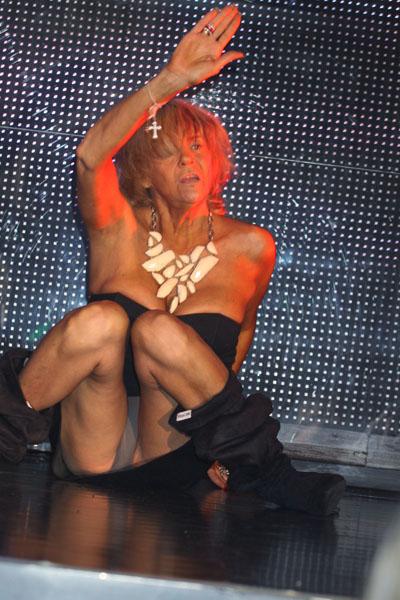 Patricia displayed how aging power tanning can be as she displayed a leathery look in a skimpy silver bikini during a day at the beach in New Jersey on April 17, 2013. The 45-year-old tanning fanatic outraged parents last April for allegedly letting her daughter, 5, use a tanning bed. She was found not guilty of child endangerment.
Article continues below advertisement
Quentin Tarantino: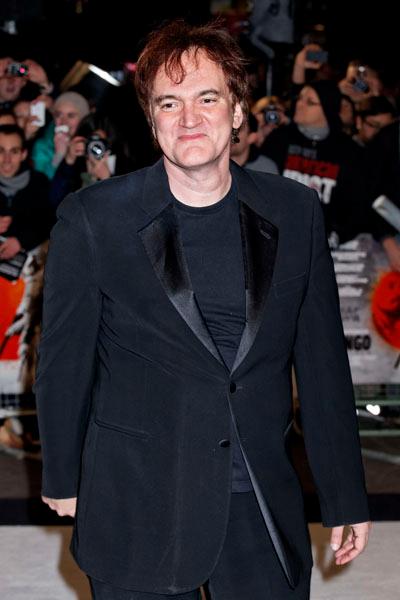 Quentin Tarantino: The Django Unchained Oscar winner, 50, is better behind the scenes, and now we can see why! The director was photographed vacationing on a yacht in Mexico with his girlfriend Lianne MacDougall on Jan. 19, 2013—and couldn't hide his lumpy shape. Food plays a big role in Tarantino's movies and a YouTube clip once showed him eagerly scarfing down a chili dog!