Joanna Krupa RIPS Brandi Glanville, Says She's 'Desperate For Attention' After Implicating Her In Affair That Killed Yolanda Foster's Marriage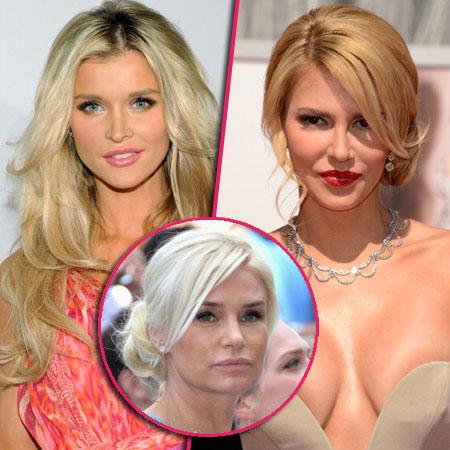 There's some serious housewife hate brewing between Joanna Krupa and Brandi Glanville, and we've got the exclusive details about the budding bitterness right here on RadarOnline.com.
Glanville got the ball rolling on Monday's Watch What Happens Live, giddily telling Andy Cohen that Krupa caused problems in Yolanda Foster's former marriage with Mohamed Hadid when she "had sex with" the real estate tycoon while he was wed to Yolanda -- "it was one of many affairs" to end the marriage, she said.
Article continues below advertisement
Brandi said that "Mohamed and Yolanda are great now," adding that there was an incident when she and Yolanda nearly had a run-in with Krupa at a party, at which point, "We had to go!"
The Dancing with the Stars pro-turned-Real Housewives Of Miami starlet exclusively spoke with RadarOnline.com following Brandi's scorching appearance -- and ripped her fellow housewife for her harsh statements.
"I guess Brandi will stoop so low to make up fake stories to hurt her so called friend Yolanda," the Polish-born beauty told us exclusively. "She is desperate for attention.
"Mohamed has been nothing but a wonderful friend to me for 10 years. What I do in my private life is my business and never broke up any marriage!"
As far as Hadid, he was clearly rattled by Brandi's revelations, showing his anger in a series of tweets in which he summarized her interview as a series of falsehoods.
The real estate developer wrote, "That's such a lie … I don't talk like that … disgusting … pure lies."
Article continues below advertisement
He then addressed host Andy Cohen, telling the pot-stirrer that Brandi "is such a scum and a foul mouth," and that he was "saddened" by her televised statements.
"I would never speak of private" matters with her, the wealthy businessman said.
Finally, he sent a tweet tom Yolanda, telling her, "I love you mother of my children and my best friend," and again denying he'd spoken with Glanville on the issue.
Watch the video on RadarOnline.com