Yolanda Foster Relates To Brandi Glanville, Admits Battling Her Own Demons After Ex-Hubby Cheated On Her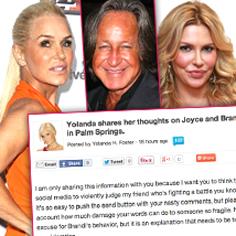 Article continues below advertisement
As RadarOnline.com previously reported , Glanville accused Real Housewives of Miami star Joanna Krupa of having an affair with Foster's husband Mohamed Hadid, a story they both denied.
"If I can only give her a glimmer of hope while she is going through her darkness, then that is enough for me," she said, admitting that Glanville still hasn't gotten over the fact that her ex-husband Eddie Cibrian cheated on her with his now-wife LeAnn Rimes, even though the affair happened over four years ago.
Foster candidly opened up about her stance, revealing she went through her own dark period after her ex-husband cheated on her.
"I broke my back giving birth to my son Anwar, lost my husband to infidelities, and battled severe depression all at the same time in 1999, so I know what it is like to be broken and down in a deep, dark hole while trying to keep it together to be a mother and raise children. Life did not give me that experience to now look down on Brandi and judge her for falling in a hole that I was once in," Foster wrote.
Article continues below advertisement
"Did I behave like her? NO, I didn't because I choose (sic) to live an isolated life with my three children until I weathered the storm. I was a financially independent woman before I got married to Mohamed, so I had the power and freedom to pick up my children and move away from my life in Beverly Hills to the quiet, little town of Montecito," she added.
Although Foster came under fire on Twitter by the viewers, the reality star defended her friendship with Glanville.
"During the first year of my battle with Lyme disease, Brandi was the ONLY person in this group that consistently and genuinely checked up on me… For that, I love her and will always be grateful.
"I am not just going to drop my friend because she is not making me look very good in front of all of you right now. I will support Brandi to the best of my ability until she comes out of this very difficult time in her life. At this time, I only wish her love, light, and the ability to heal her broken heart," she added.