'RHOBH' Star Yolanda Foster Still Struggling With Lyme Disease: 'I Am The Shell Of The Woman I Used To Be'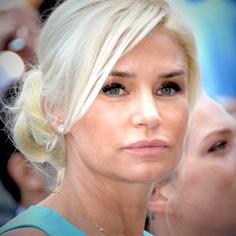 On Monday night's episode of The Real Housewives of Beverly Hills, Yolanda Foster gave viewers an intimate look inside her battle with Lyme disease and said she is "still struggling" through her days.
After undergoing a surgical procedure, she hoped that she'd be in remission – but it appears her struggles are far from over.
In her new Bravo blog, Yolanda was candid about her ongoing battle with the neurological disease.
Article continues below advertisement
"On the day they removed my port, I was still pretty optimistic that I had arrived at the end of my journey and was close to the finishing line of my recovery.
"Unfortunately, this episode was shot in March of 2013 and I realize that eight months later, I am still struggling through my days and still haven't found a cure or was able to put this disease in remission," she wrote on Nov. 11.
The reality star continued to bare her soul in the emotional blog post.
"I am the shell of the woman I used to be so the hardest thing for me is to accept my limitations and deal with the feeling of inadequacy due to not being able to do all that I used to. I truly miss me being me!" she wrote.
"I find it almost embarrassing to watch my paralyzed brain struggle with word retrieval as I try to participate in conversations."
The Dutch model revealed that she continued to fight "the lonely battle" for her children and husband, music producer David Foster.
"My heart goes out to those who have no support system in this journey… which leads me to the blessing in my life, my husband. . .If it was not for his perseverance I probably would not be here today. He is a constant reminder of everything that is good and proof that true love and friendship does exist," she gushed.