RHOBH Star Yolanda Foster Recovering From Surgery Related To Her Lyme Disease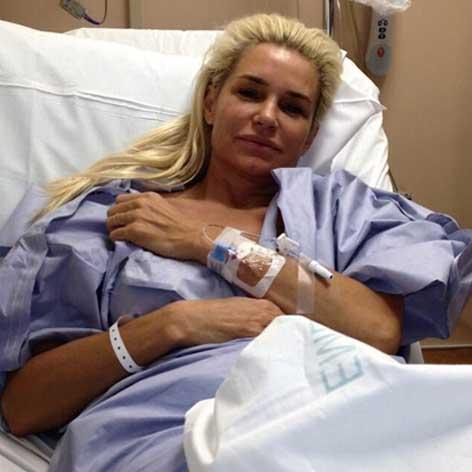 The Real Housewives of Beverly Hills star Yolanda Foster is recovering from surgery she underwent on Friday as part of her ongoing battle with lyme disease, RadarOnline.com has learned.
The blonde former model, who is married to composer David Foster, tweeted a photo of herself in a hospital bed on Friday, the port still in her arm, with the caption, "Exciting day, getting my port out."
In December, Yolanda had tweeted about getting the port implanted because of her treatment for Neuro Borrelia Lyme disease. In the disease, bacteria is spread to people through infected tick bites and can result in such symptoms as fever, fatigue, depression, and a skin rash.
Article continues below advertisement
A port is a medical device implanted under the skin and left in place for a prolonged period of time when a patient's condition requires frequent injections of drugs and blood draws for tests.
The surgery to implant and later remove the port is done under local anesthesia and mild sedation.
Although Yolanda hasn't specified what her symptoms are, it's known that without treatment, Neuro Borrelia Lyme disease can also affect the heart and central nervous system.
But luckily for RHOBH fans, after her port removal, Yolanda seemed to be just fine. The slim reality star known for being a fitness nut and devoted mastercleanse follower tweeted on Saturday that "due to my surgery yesterday I had to break my fast this AM day #6 of the #mastercleanse."
As RadarOnline.com has previously reported, Yolanda broke down in emotional tears earlier this month in accepting an award from the Lyme Research Alliance. During the speech, she said the disease had turned her from a "tough cookie" into "a shell of the woman I used to be."
But on Saturday post-surgery, the Dutch model appeared to be enjoying the day with her husband, happily tweeting a picture of a bright blue sky and writing, "A gorgeous spring day in Malibu with my love @officialdfoster."