'Crazy, Drunk' Brandi Glanville Is Using Me To Stay Relevant, SLAMS Her Ex-Husband's Mistress Scheana Marie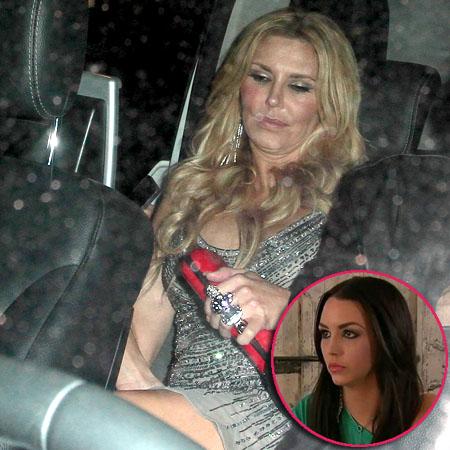 Article continues below advertisement
"Brandi was really drunk that night, so maybe she thought something happened that really didn't. I had a two second encounter with her date…. Trust me, if I was flirting with her date the entire night, the cameras would have caught it and Bravo would have aired it," she added.
The Craziest & Most Outrageous Celebrity Rumors — What's True, What's Not?
As Radar previously reported, Brandi claimed the newly engaged reality star flirted with her date the entire night at Ken Todd and Mauricio Umansky's joint birthday bash, which aired on Real Housewives.
During the episode, Brandi and Sheana briefly bumped into each other and exchanged words, as Brandi ranted: "I don't think I'm ever going to escape this woman!"
As 90210 fans know, the two haven't exactly been on the best terms. In late 2009, Scheana dropped a bombshell, revealing that LeAnn Rimes wasn't Eddie Cibrian's only mistress; she too had been in a relationship with Glanville's ex-husband!
Scheana revealed that as Brandi walked away, Bravo only showed half of what really happened.
"Things escalated further. She was mumbling and yelling obscene things about me. I laughed it off and didn't take it to heart because Brandi was really drunk," she revealed.
As for their Twitter beef, Sheana thinks Brandi is scared of becoming "irrelevant."
"She just wants more attention for herself. She refuses to name me on Twitter, but she tweets and talks about me. I find it interesting. It's like she's using me to create drama and keep herself relevant," she quipped.