Amanda Bynes Tells Chrissy Teigen, 'You Are An Old Ugly Model Compared To Me'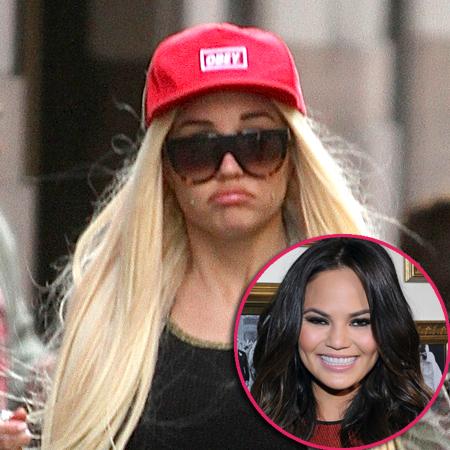 Looking for the latest Amanda Bynes kookiness? You've come to the right place.
The enigmatic actress remained in loose cannon mode Tuesday, going off on model Chrissy Teigen, after the Sports Illustrated swimsuit stunner tweeted about her discomfort with the legions of fans who've stood behind the former Nickelodeon co-star during her ongoing meltdown.
"The fact that Amanda Bynes has any 'support' to retweet is really unsettling...Support people with mental illness, yes. But don't condone/enable scary and poor behavior," Teigen, 27, tweeted Thursday.
Article continues below advertisement
Bynes, 27, wasted little time in responding -- and going for the jugular, at that, telling the model in an extended tweet, "I'm far prettier than u," and that "you are an old ugly model compared to me."
She wrote, in full: "Ur not a pretty model compared to me. I signed to Ford models @ age 13. I don't look up to u beauty wise. I'm far prettier than u! I'm offended that you're saying I have a mental illness when I show no sign of it, but thankfully not one man that wants me wants you and you are an old ugly model compared to me! You look 45! You're not pretty so I'm not intimidated by you!
"I think you're jealous that you're just an ugly model whos career is uninspiring! I don't respect you! You're no beauty queen! I'm a beauty queen!"
Teigen took the high road to Bynes' childishness, responding, "Nope. Not going to indulge. Wish the best for her, truly."
She then discouraged her followers from further inflaming the situation by blowing up Amanda's feed with insults.
"Don't, guys. Just don't...I never ask anything of you guys but please," Teigen tweeted. "I don't need defending and please stop writing her. It's not funny, it's sad."
During Bynes' ongoing meltdown, she's taken Twitter beefing to a new level, stirring up online feuds with stars such as Rihanna, Nicki Minaj and Jenny McCarthy.
Keep it right here on RadarOnline.com for the latest on Amanda Bynes.
radar_embed service=5min.com src="http://pshared.5min.com/Scripts/PlayerSeed.js?sid=1126&width=570&height=351&playList=517796596&sequential=1&shuffle=0"