Exclusive
Amanda Bynes' Parents Concerned She May Be Suffering From Schizophrenia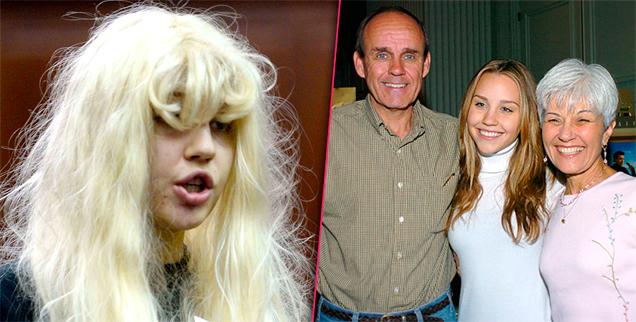 Amanda Bynes parents Rick & Lynn are concerned their troubled daughter could be suffering from schizophrenia, and have encouraged the former actress to seek professional help, which she has refused to do, RadarOnline.com is exclusively reporting.
The Bynes family moved from Texas to Los Angeles several years ago to be closer to their daughter. One reason for the move was because, "for years, since Amanda was a teenager, she exhibited distressing behavior," a source told RadarOnline.com exclusively.
Article continues below advertisement
"Amanda has heard voices for years, and was concerned she was being spied on via smoke alarms, and clocks in her home. She would cover electronic items because Amanda believed that was the only way she wouldn't be spied on. It's extremely sad situation because Amanda just refuses to get help."
The latest development in Bynes' tragic downward spiral comes in the wake of her most recent arrest in New York City last week for allegedly throwing a bong out of her apartment window.
As RadarOnline.com previously reported, the 27-year-old's parents, Rick and Lynn, recently consulted with several lawyers in hopes of getting a conservatorship for their troubled daughter, but were told they'd be unsuccessful because the actress didn't meet the strict criteria.
"Rick & Lynn have met with several lawyers that handle conservatorships in the past month, because they want to get a conservatorship of their daughter. They have been advised that even as disturbing as Amanda's behavior is, it's very unlikely that a judge would sign off on a temporary conservatorship.
Article continues below advertisement
"Conservatorships are very hard to get, and being mentally ill and addicted to drugs isn't enough. Amanda hasn't ever been to rehab or ever agreed to see a mental health professional. Her parents are absolutely powerless to do anything at this point," the insider previously told us.
Lashing out at her parents on Twitter over the weekend, Bynes said, "Also, never trust or listen to a word any person from my family says to the press. I am suing them for money laundering/unethical manager work, I never signed a contract with them, and they had been stealing my money without me knowing, claiming they were managing me somehow when they have no right to act as if they did anything to help or enhance my career and I want $ back that I earned on my own. I'm 27 and don't like when press talks to my parents. My parents are almost 70 years old. We are no longer on speaking terms. I would rather them be homeless than live off of my money."
Our sources reveal, "her parents have never lived off of her money. They are just concerned for her, and wish Amanda would voluntarily seek help."
Schizophrenia is a mental disorder that manifests itself in a wide range of cognitive and emotional dysfunctions.
The DSM IV (the guideline for mental health professionals), lists many criteria used to diagnose Schizophrenia including the presence of the following symptoms during a specified time period:
Delusions
Hallucinations
Disorganized speech, such as frequent derailment or incoherence
Grossly disorganized or catatonic behavior
Negative symptoms, such as affective flattening, alogia, or avolition

In addition, there are different types of the disorder and far more diagnostic criteria that must be made by a qualified mental health professional.

Amanda's behavior has grown increasingly bizarre lately, at first with her Twitter pursuit of singer Drake, including when she sent him the infamous message: "Murder my (lady parts)." She has followed that with online wars against many people, some members of the media.

She denied the validity of photographs showing the inside of her apartment, has called at least two people an "ugly black man" and claimed she does not use drugs at all, despite numerous sources detailing heavy marijuana use.