Look At Me, I'm DOPE! Amanda Bynes Tweets Yet MORE Racy Photos Of Herself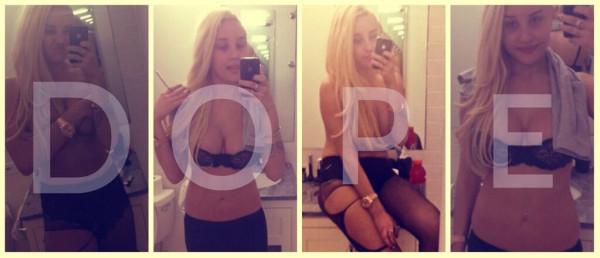 Amanda Bynes may be a lot of things, but one thing she's not is shy.
The troubled starlet, 27, tweeted yet more provocative photos of herself Thursday night – some topless and some wearing a black lacey demi-bra with torn pantyhose with the word 'DOPE' imposed over the pictures.
Bynes has been on a Twitter bender for the past few weeks, whether denying that she's crazy, tweeting about her celeb crush Drake, or slamming media outlets for publishing, what she claims, are unflattering photos of her.
Article continues below advertisement
As RadarOnline.com previously reported, it's been another difficult week for the Easy A star.
Late Wednesday, a Hollywood publicist sounded the alarm on Bynes to the NYPD after she allegedly told him: "I don't want to live anymore."
"Amanda had called me and we had a private conversation, but it was clear to me that she was high on drugs," Jonathan Jaxson told RadarOnline.com, in an exclusive interview.
"Then, she said that she didn't want to live anymore. I took that as that she wanted to kill herself. I freaked out."
Jaxson said he immediately called the New York Police Department and tweeted at their handle that the ex-Nickelodeon star was "soooo messed up on drugs", knowing that officers would then perform a welfare check.
Police have not said if they attended Bynes' apartment, but Jaxson told RadarOnline.com he later received a call from an officer explaining that Bynes "was fine".
Jaxson — he describes himself online as a "Publicist/Manager/Marketing/Consulting/God Fearing/Realtor" — has been attempting to help the What I Like About You star for some time in a bid "save her image," he said.
Bynes has denied that the NYPD ever came to her home.