Exclusive
Selena Gomez's Friends Warn Her On Reuniting With Justin Bieber -- Stay Away, He's No Good For You!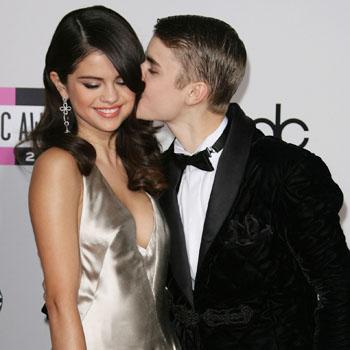 Justin Bieber surprised fans over the weekend when he briefly posted a cozy photo of himself with ex-flame Selena Gomez on his Instagram account — and RadarOnline.com has exclusively learned the pic already has the actress and singer's friends warning her to stay away from the Canadian pop singer.
Selena, 20, visited Justin, 19, at his tour stop in Oslo, Norway and aside from the incriminating photo he posted, eyewitness reports state the two were spotted holding hands, hugging and kissing.
Article continues below advertisement
"Selena's friends are furious that she's giving Justin another chance," a source close to the Spring Breakers actress exclusively told Radar.
"They've been trying to warn her that he's no good for her and that she should stay away from him, but she just loves the attention he gives her."
Justin and Selena split up after two years together just before New Year's Eve while vacationing in Mexico together after sources told Radar Selena "finally realized how toxic it was to date a toddler like Justin."
But after a nearly four month break — which included a lot of immature and bizarre behavior on Justin's part — the two are again testing the waters.
"They've been spending a lot of time together, secretly, over the last couple weeks. But nothing is official between them," the source revealed.
"Selena didn't know Justin was going to post that picture on Instagram and squirmed when he did. Posting it was his way of marking his territory again and showing her who wears the pants, but ultimately he just wants to keep her happy so he immediately deleted it."
Article continues below advertisement
In the last few months without Selena, Justin has been booed by British fans for arriving two hours late to his concert, a paparazzo was hit and killed while following Justin's white Ferrari (driven by pal Lil Twist), photos leaked online of Justin smoking what appeared to be marijuana while surrounded by a group of friends, he embarked on a steamy sex romp with a nursing student named Milyn "Mimi" Jensen according to Star magazine, and his Ferrari was once again pulled over by police, twice in two days — both times with his pal Lil Za at the wheel without a valid driver's license — and a photo of Justin allegedly groping a fan's breast was published.
"If you'll notice, Justin has been on much better behavior since he started seeing Selena again," the source told Radar.
"Being with Selena is good for him, but her friends are adamant that he's bad for her."