Exclusive
Bieber's Downward Spiral: Justin's Surrounded By Bad Influences, And Family & Friends Are Worried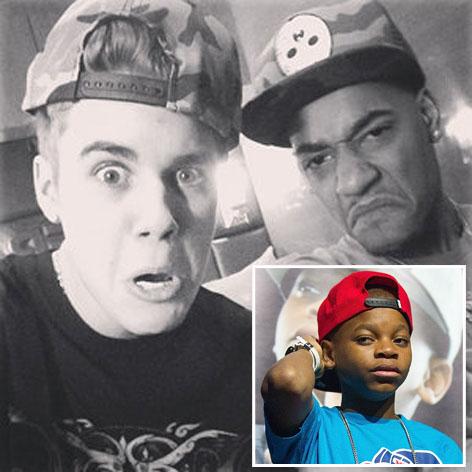 Justin Bieber's family and close friends are worried about the kind of people the 18-year-old singer is surrounding himself with lately and the bad influence that they are having on him, RadarOnline.com is exclusively reporting.
"Justin's reputation has been drastically tarnished in a really short time span simply because of the company he's keeping," a source close the situation exclusively tells Radar.
Article continues below advertisement
"Nobody's going to name names or point fingers, but Justin knows who he shouldn't be hanging out with and has clearly been caught in some undesirable situations because of these people."
Since splitting with his Disney sweetheart girlfriend, Selena Gomez, in December, a paparazzo was hit and killed while following Justin's white Ferrari (driven by pal Lil Twist), photos leaked online of Justin smoking what appeared to be marijuana while surrounded by a group of friends, he embarked on a steamy sex romp with a nursing student named Milyn "Mimi" Jensen according to Star magazine, and his Ferrari was once again pulled over by police, twice in two days — both times with his pal Lil Za at the wheel without a valid driver's license — and a photo of Justin allegedly groping a fan's breast was published.
"Justin's family, his business team and his closest friends are really concerned about the direction Justin is going in with his life right now," the source says.
"Not only is it bad for his reputation, but the influences around him aren't good."
Meanwhile, as RadarOnline.com previously reported, the Canadian pop sensation's mother, Pattie Mallette, is petitioning hard for her son to get back together with Selena because she believes the Disney starlet is a good influence on him.
However, a close source said they believe her efforts are in vain.
"I seriously doubt Justin and Selena will ever get back together for good," the source said. "They fight non-stop over just about everything. Selena has a problem with Justin's choice of friends and has serious trust issues with him."
What do you think about the crew Justin chooses to hang with — are they a good or bad influence? Sound off below…