Exclusive
Justin Bieber's Mom Pushing Hard For Reconciliation With Selena Gomez, Believes She's 'A Good Influence'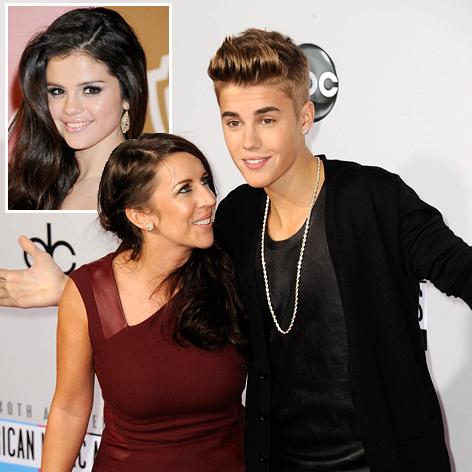 Justin Bieber's mom, Pattie Mallette, has been pushing hard for the Baby singer to reconcile with his on-again/off again girlfriend, Selena Gomez, as she firmly believes the 20-year-old Disney darling is a good influence on her son, and will help keep him on the straight and narrow, RadarOnline.com is exclusively reporting.
"Justin's mom has always been very close to Selena, and she's impressed by what a good influence she's been on her son," a source tells Radar. "Pattie's been pushing hard for Justin to get back with Selena. However, Selena doesn't want to associate with the crowd Justin's been hanging out with lately as she thinks they're not to be trusted.
Article continues below advertisement
"And, with good reason, as it was one of Justin's supposed friends who recently sold photos of him allegedly smoking weed. Selena is very careful who she spends time with and is very suspicious of people she doesn't know - she doesn't want to be with Justin all the time as he's surrounding himself with what she thinks are really shady people. Pattie believes though that if Selena would just get back together again with Justin she could soon get him back on the straight and narrow."
As RadarOnline.com previously reported, rumors are flying that Selena and Justin may already be giving love another try, after Gomez was spotted leaving the young singer's home early Saturday morning.
After her walk of shame, the pretty brunette, clad in a yellow cardigan, pink sneakers and a black hat, kept her face hidden from cameras as she loaded a suitcase into her car, with the help of Bieber's bodyguard.
Article continues below advertisement
Selena's sleepover with her 18-year-old ex is believed to be the first time the couple has seen each other in a month. The young lovebirds broke up in early December before reconciling just before Christmas for a ski vacation.
However, they split once again in early January, and Gomez recently said she has been "having a good time" since the break-up.
Meanwhile, Justin has also been enjoying the single life and reportedly pursuing a variety of women.
So, that given, is it likely that Justin's mom will get her dream of the two living happily ever after - together?
"I seriously doubt Justin and Selena will ever get back together for good," the source says. "They fight non-stop over just about everything. Selena has a problem with Justin's choice of friends and serious trust issues with him."