Are Justin Bieber And Selena Gomez Back Together? Star Spotted Outside Ex-Boyfriend's Home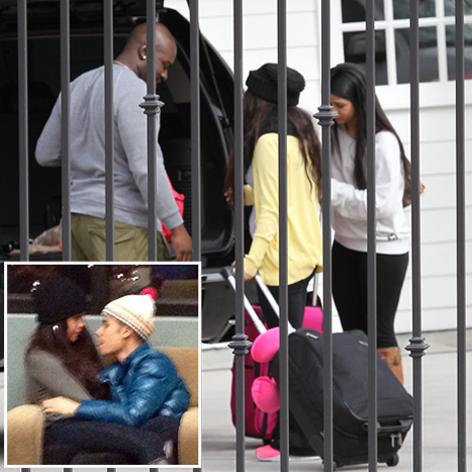 It appears on-again-off-again couple, Selena Gomez and Justin Bieber may be on-again after the pretty star was spotted leaving the young singer's home early Saturday morning.
Wearing a yellow cardigan, pink sneakers and a black hat, the petite brunette kept her face hidden from cameras as she loaded a suitcase into a car, with the help of Bieber's bodyguard.
The 20-year-old spent the night with her 18-yer-old ex despite not having been seen with him in over a month.
Article continues below advertisement
"Selena looks like a young girl in love," said the X17 photographer who took the snaps and positively ID'd her. "And obviously Justin's trying to win her back - sending her home in his car and everything - giving her the royal treatment."
Later in the day, the Spring Breakers star was pictured going solo to grab lunch at Panera Bread in Los Angeles.
As RadarOnline.com exclusively reported, Biebs and Selena broke up in early December but then got back together just before Christmas for a ski vacation.
They split again in January, with Gomez admitting she has been "having a good time" since their most recent break-up.
Biebs has since reportedly been pursuing a variety of women but he obviously can't get Selena out of his system.