Exclusive
The Robin Roberts Factor: TODAY Has Accepted GMA Is Pulling Ahead In Ratings Race For Good, Says Source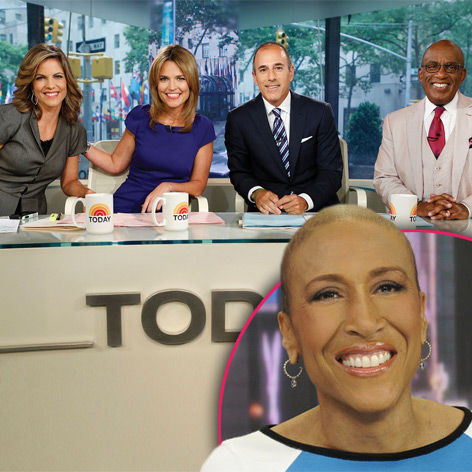 As Good Morning America welcomed beloved co-host Robin Roberts back to the show this week to record ratings, the staff at TODAY has accepted their competitor has pulled ahead in the morning ratings battle for good, RadarOnline.com is exclusively reporting.
"Morale has never been lower," a source tells Radar. "TODAY staff knew that Robin's return to GMA would be ratings gold, but it has only cemented the belief that their competitor has pulled away - leaving TODAY in the dust for good.
Article continues below advertisement
"TODAY suffered two huge blows recently - they had been pursuing Amanda Knox for her first television interview promoting her book, which will be released in the next few days; however, NBC lost the interview to ABC, with Diane Sawyer bagging the sit down. Then, ABC made a brilliant strategic move last week by chartering a private airplane for reporter Matt Guttman to get the first look at the stranded Carnival Cruise ship as it was towed into Mobile, Alabama. They got amazing footage of the horrific conditions passengers had been forced to endure, and those were the first images the public saw of the ship, and was featured on Good Morning America. NBC's coverage of the disaster just didn't compare to ABC's. TODAY is continually having to play catch-up with GMA."
As RadarOnline.com previously reported, Roberts, 52, made her triumphant return to Good Morning America Wednesday after a 174-day hiatus following a bone marrow transplant last September.
Robin's sickness was punctuated by the tragic death of her mother last summer just as she left to go on leave — and her progress following treatment was closely documented on GMA.
According to Nielsen ratings, a whopping 6.1 million viewers tuned in for Roberts first day back on the job, a 12 percent increase for Good Morning America. Meanwhile, TODAY came in second yet again, with 5 million viewers.
Since Ann Curry's disastrous departure from TODAY this past summer, ratings on the once-dominant morning program have continually declined, allowing GMA to capture the number one spot.